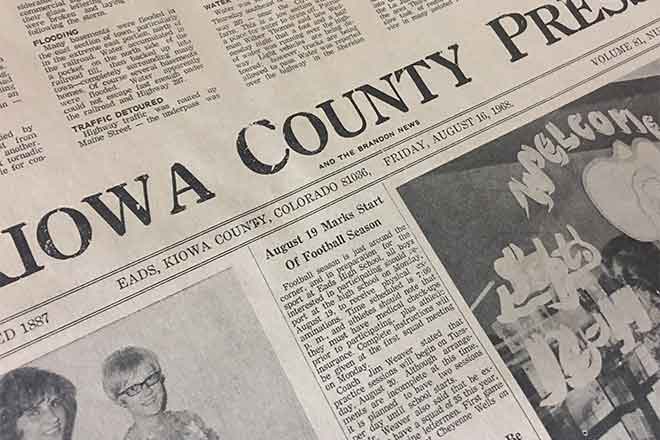 Published
Thursday, November 15, 2018
15 Years Ago
November 14, 2003
The National Park Service in conjunction with Bent's Old Fort National Historic Site and Sand Creek National Historic Site recently provided funding for rural fire assistance to the Kiowa County Fire Department.
The "Friends of 4-H" award was presented to Denis and Theresa Weber.
Wild Horse Roundup-Curtis Schrimp: We had a stranger in Wild Horse. Billie Lafferty went outside and under her fir tree was armadillo. I believe he is a little lost. He must have been dropped off.
25 Years Ago
November 17, 1993
The first annual Kiowa County Road Rally was held in Eads. Eight teams of 2 started the event at the County Seat and proceeded along 85-mile course throughout the county.
The first snow fall of the season dropped 9 inches of snow in some parts of the county.
40 Years Ago
November 17, 1978
John E. Jacobs and his bowling team "My Four Sons." John is the youngster of the team at 83 soon to be 84. The baby of the family, Frank is 45, George 56, Edgar 60 and Leroy 62.
State Farm Mutual, the state's largest auto insurer, announced Colorado insurance premiums will go up an average 9.2 per cent.
50 Years Ago
November 15, 1968
People in this part of eastern Colorado will be pleased to learn of the continued improvements to CO 94 east of Colorado Springs. The stabilizing and bituminous paving of the highway from 40/287 will finish the road as all-surface approach to Colorado Springs.
75 Years Ago
November 12, 1943
Kiowa County Selective Service Board has certified only 1 man for induction although the call is for 14 men.
100 Years Ago
November 15, 1918
The Eads schools are to be open on Monday, November 25, providing there are no new cases of the Flu according the towns health officer.
On account of proclamation by the governor making Monday a holiday in honor of the closing of hostilities in Europe, the businesses in Eads will be closed in the afternoon to celebrate the occasion