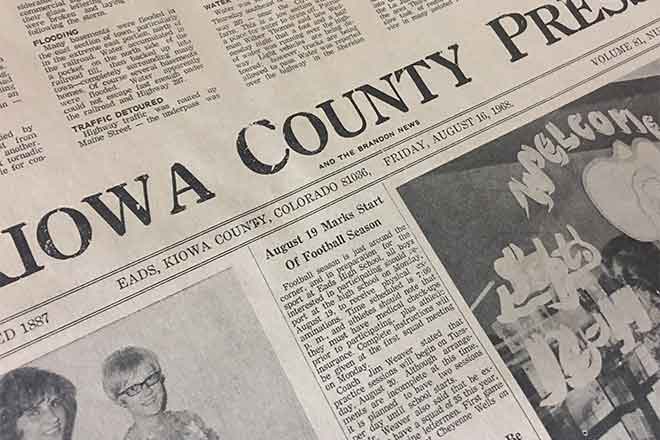 Published
Friday, February 23, 2018
15 Years Ago
February 21, 2003
Kiowa County Extension-Bruce Fickenscher: Bugs-In February. The little grubs (Armyworms) are not supposed to survive Colorado winters. Because of the dry, warm conditions we are seeing a rather large hatch.
Dr. Jeff Tidswell announces the opening of his private Optometric practice in Eads.
The Lamar Community College Rodeo Club will host its first rodeo in five years.
Wild Horse Roundup-Curtis Schrimp: We had a bit of surprise when we went to get in the car. We had to hurry to keep from getting wet. It didn't measure much but it was wet.
25 Years Ago
February 23, 1993
Towner Tales-Ann Harkness: Mother nature has once again reminded area residents winter is still here. High winds and around 3 inches blew through the air causing numerous cancellations.
40 Years Ago
February 24, 1978
Liz Rehfeld, 4-H Leader for the Sheridan Lake Live Wires for 15 years, was honored at the Colorado 4-H Day in Denver. Her involvement with the 4-H program has been on a local, county, district, and state level.
The National Guard generators that were providing electrical power to Weisbrod Memorial County Hospital as well to Eads, Sheridan Lake and Haswell were pulled when Gov. Richard Lamm's declaration of emergency expired.
50 Years Ago
February 23, 1968
The Eads fire siren sounded a short time after a cold front moved into the area, bringing gusty winds. Burning embers from a trash incinerator ignited dry grass just north of the Town Hall.
Jerry McDaniel joined Miller Hardware as television and radio service man.