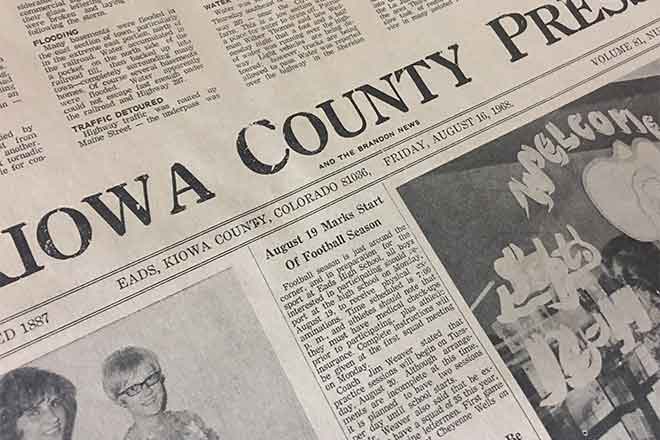 Published
Saturday, March 10, 2018
15 Years Ago
March 7, 2003
Board members of the Town of Eads learned work is continuing at the sewer lagoons southeast of Eads. When the new system is completed, it will be able to process 150,000 gallons of waste water per day.
Local Salvation Army officials have announced the Eads Salvation Army Store has now re-opened.
The Town of Eads board approved a gun ordinance, which was presented after several months of study.
Jeff Brooks, a native son of southeastern Colorado will be teaching an oil painting class at the Artists of the Plains gallery.
25 Years Ago
March 11, 1993
Kit Carson announced three of its promising musician students, Bethany Schallenberger, Kyle Schnabel & Joni States were selected to audition for Disney's Young Musicians Symphony Orchestra.
Reorganizational meeting for the Kiowa County Democrats was held Feb 8 at Larry's Barber Shop with 32 Democrats attending.
The Eads Student Council is sponsoring Bob Crosby's Donkey Ball.
40 Years Ago
March 10, 1978
A proposed meeting during which the public was to have opportunity to discuss with the school board members teachers whose contracts are up for renewal was cancelled because of legal complications.
There will be no election in Sheridan Lake when other statutory towns in of Kiowa County & Colorado elect mayors & members of the boards. "We haven't had an election in 10 years says Mayor Jim Richardson.
The Empire Drilling Co. rig came tumbling down at the well site some 10 miles south of Eads. "We just put a little weight on it and down she came said a spokesman at the rig.
Action seeking the legal rights to unappropriated water underlying in 6 Southern Colorado counties including Kiowa, has been dismissed by Dist. Judge John Statler of Water Division 2 of Pueblo District Court at the request of applicants.
50 Years Ago
March 8, 1968
History repeated itself last Saturday evening as the Eads Eagles upset the Plainview Hawks to capture the High Plains sub-district championship.
Win a Live Hog. Guess the weight of our live hog now display...You're the Lucky Winner. Everyone invited to enter. Nothing to buy-No Obligation Greenwood Service Eads, Co
100 Years Ago
February 15, 1918
The Brandon Community Club was organized Saturday night. This is the first farmers Community Club in Kiowa County.
Wm. McArdle has returned and is now in the Percy Devereux barber shop painlessly removing whiskers. Bill is one of the best barbers in this part of the country.
Prof. J.H. Maile left Friday to teach in the school north of Sheridan Lake.