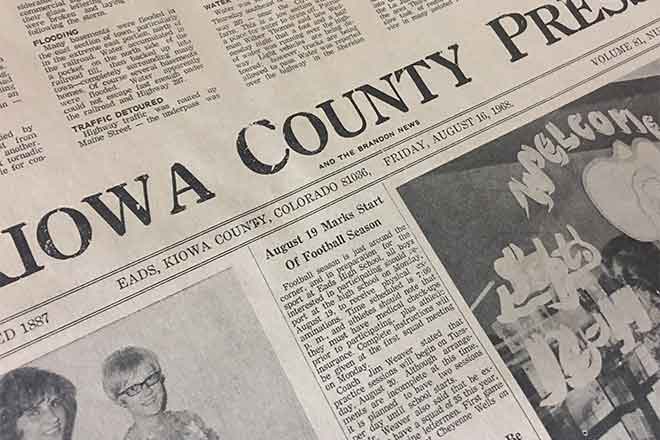 Published
Wednesday, April 3, 2019
15 Years Ago
April 2, 2004
The county 4-H members served a bountiful roast beef dinner at the Annual Southeast Colorado Power dinner at the Eads Community Building.
Kit Carson school ball field and gym was the site of a big rally for the 1A champion basketball team. It started with the landing of the Channel 4 news helicopter.
25 Years Ago
April 8, 1994
A yard sale to benefit the Kiowa County Museum will be held April 15. Proceeds will be used to purchase a picture display unit.
Towner Tales-Ann Harkness: Only one word to describe Saturday was windy!Monday dawned bright and beautiful but quickly turned to dust and high winds. By Tuesday morning the wind was still blowing but there was snow in the air.
40 Years Ago
April 6, 1979
The teachers in Kiowa County School District RE-2 were granted a $600.00 raise in action taken by the Board of Directors during their regular scheduled meeting.
Apparently, we here at the Kiowa County Press can't add since our manual calculator had been sent back to the factory to be re-sharpened. Last week's story read 7 candidates seek 4 posts. It was brought to our attention that 3+3+2+2= 10 not 7.
50 Years Ago
April 4, 1969
The Grand Jury empaneled by District Judge Robert Sanderson urged the jury to consider investigation of possible cattle rustling in Kiowa County.