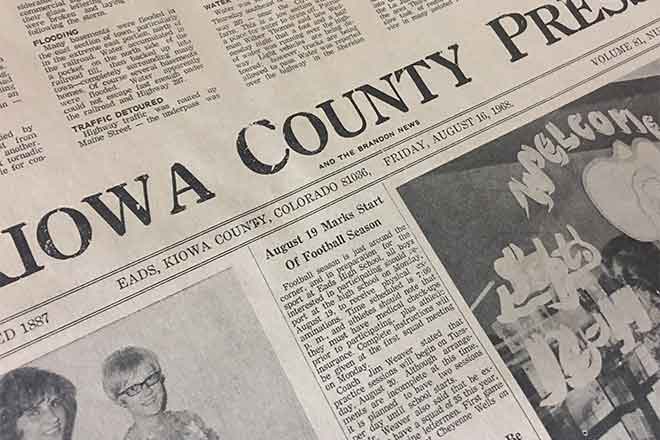 Published
Friday, April 12, 2019
15 Years Ago
April 9, 2004
Wild Horse Roundup-Curtis Schrimp: I'm still looking for the rain the weatherman talked about. I guess it stopped around Denver. I guess they needed it, but they don't have cows waiting for green grass.
25 Years Ago
April 15, 1994
ASCS Update-Rod Johnson: "First it rain, then it snew, then it friz, then it blew!" We had it all this past weekend. Except being rough on the baby calves and scattering livestock, it was a beautiful multi-million dollar spring storm.
High School seniors from Lakewood's Bear Creek High School will learn what farm life is all about when they stay with farmers and ranchers in selected counties.
40 Years Ago
April 13, 1979
Delinda Barnes, an Eighth Grader at Plainview School in Sheridan Lake, walked off with the Best Exhibit award at the 24thAnnual Colorado State Science Fair.
50 Years Ago
April 11, 1969
U.S. Air Force Major Glen L. McFarlane, son of Mr. & Mrs. Claude L. McFarlane, Towner, CO., has been decorated with the Distinguished Flying Cross for aerial achievement in Southeast Asia.
Brandon News: No doubt about it. We certainly have variable weather in eastern Colorado. Friday we had slow gentle rain. Two days later we had a westerly wind with gust up to 60 miles per hour, dust filled the air. Then the wind abated and we had another beautiful spring afternoon.
Haswell Happenings: Everyone enjoyed the rain, which arrived Thursday night and Friday morning