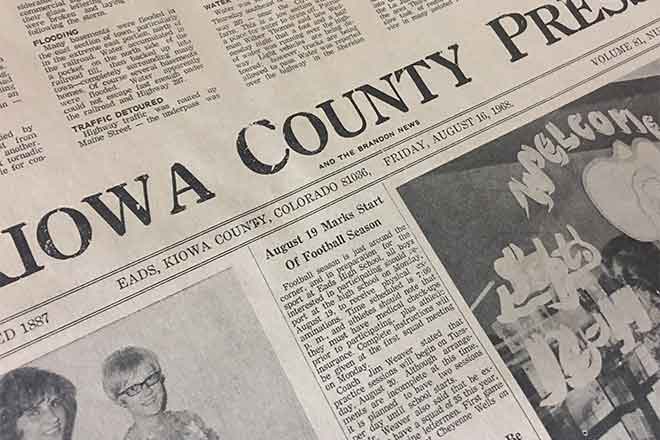 Published
Wednesday, April 17, 2019
15 Years Ago
April 16, 2004
Farm Credit of Southern Colorado Board of Directors approved $2.43 million distribution of patronage refund to the Association's member-borrowers.
Wild Horse Roundup-Curtis Schrimp: What a wonderful sight to see some water standing in little low spots around and having to put my overshoes on.
25 Years Ago
April 22, 1994
Scouting of wheat field in the Sheridan Lake area this week revealed many fields are infested with Russian Wheat Aphid. Counts varied from 0 to 80% of plants infested.
Nursing Home News: Gee what a beautiful snow we had. We had nine inches but because it was never cold it didn't remain long.
40 Years Ago
April 20, 1979
Eads Recreation Parlor not only got a new "face lift" recently but, along with the remodeling, it also got a new name When Jerry Adamson reopened the doors to the recreation center the name had been appropriately changed to "Jerry's Place."
50 Years Ago
April 18, 1969
Mayor Bernard Koch stated that all dogs running at large in the Town of Eads that are not licensed and vaccinated for rabies by May 1, 1969 will be impounded and destroyed.
Haswell Lumber Co. announced they are closing their yard at Haswell and have planned a spectacular public auction to liquidate the inventory.