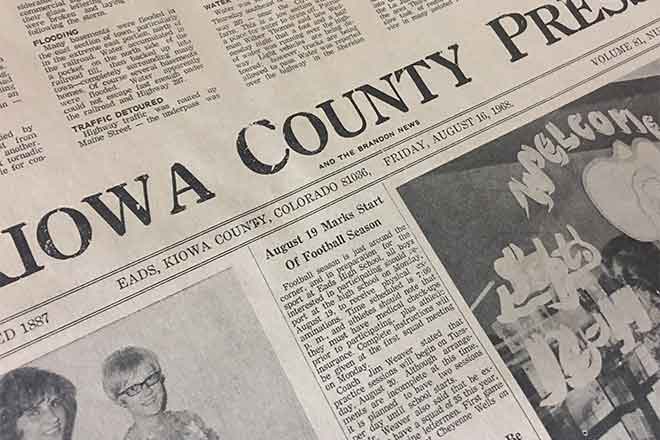 Published
Wednesday, April 24, 2019
15 Years Ago
April 23, 2004
Ken Salazar, Colorado Attorney General and candidate for the United States Senate, made a stop in Eads speaking to a group of Democrat, Republican and Independents for about 45 minutes.
Lucinda Perry, a resident of Kit Carson, is pleased to announce the publication of her first novel entitled "Where There's a Will."
25 Years Ago
April 29, 1994
President Bill Clinton ordered flags across the nation to be lowered to half-staff to honor the memory of Richard M. Nixon, who died after suffering a stroke earlier in the week.
Strong winds blew through Kiowa County raising a cloud of dust and debris which cut visibility and made travel on area highways difficult.
40 Years Ago
April 27, 1979
Southeast Colorado Power Association has begun preliminary work on the new 69KV H-Structure line they plan to build to Eads.
For those of you who might have forgotten, Sunday morning, April 29, is when we spring ahead 1 hour and and lose out on an hour of needed sleep.
The Weisbrod Memorial County Hospital and Nursing Home has received an award from the American Hospital Association for achieving a significant energy savings at the facility.
The Carson & Barnes 5-Ring Wild Animal Circus comes to Lamar Fairground for performances May 2, sponsored by Volunteer Firefighters.