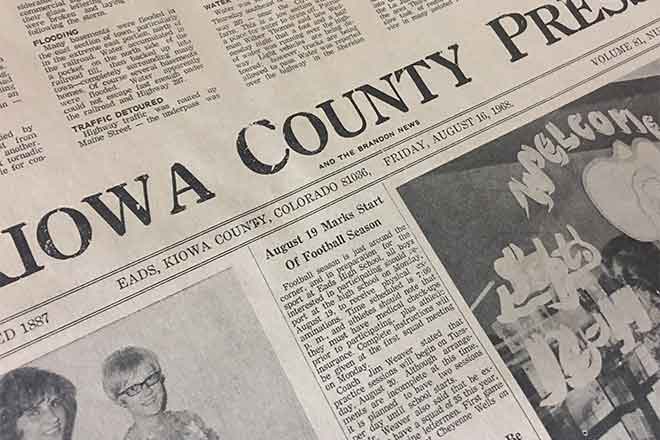 Published
Saturday, June 15, 2019
15 Years Ago
June 11, 2004
The greatest show on wheels will be rumbling through Cheyenne Wells. We can expect 100 antique cars to make a pit stop on their way from Jacksonville, Florida, to Monterey California.
25 Years Ago
June 17, 1994
Area boaters will enjoy better access to the Nee Gronda Reservoir thanks to a joint project of Kiowa County and Southeast Colorado RC&D.
Towner Tales-Ann Harkness: Last week's storms were almost a carbon copy of last year's hailstorms that devastated much of the area before harvest.
ASCS Update-Rod Johnson: The largest storm tacked southeast from north of Brandon and Sheridan Lake to south of Sheridan Lake and Towner. The affected area averaged 14 miles wide. We are estimating 84,000 acres of wheat affected by this hail storm.
40 Years Ago
June 15, 1979
Two of the five Great Plains Reservoirs in Kiowa County received token amounts of water last week.
Scott J. Rehfeld of Sheridan Lake is one of five young Americans who will participate in the 4thannual United States and U.S.S.R exchange program. They will spend three months working on farms and studying agriculture technology in Russia while the Soviet counterparts will be doing the same in this country.
50 Years Ago
June 13, 1969
Record white bass was caught at Bonny Reservoir, weighting in at 2 lbs. 14oz. and measured 17.5" in length and 13.25" in girth.
A letter to the editor of the Kiowa County Press signed "An Irate Housewife" directed toward the Town Board. Our "irate housewife" makes note of her dissatisfaction with the Town's trash hauling program.
75 Years Ago
June 9, 1944
R.E. (Bob) Bainer of Kit Carson and Olly Scroggins of Dodge City, Kansas, will open a general real estate office on the highway in the south part of Eads.
100 Years Ago
June 13, 1919
Miss Estes had the misfortune to have her house on her homestead struck by lighting and completely destroyed.
Bert Harris and C.N. Seividge are the new mechanics at the Star Garage and will be able to handle all repair work in first class shape.