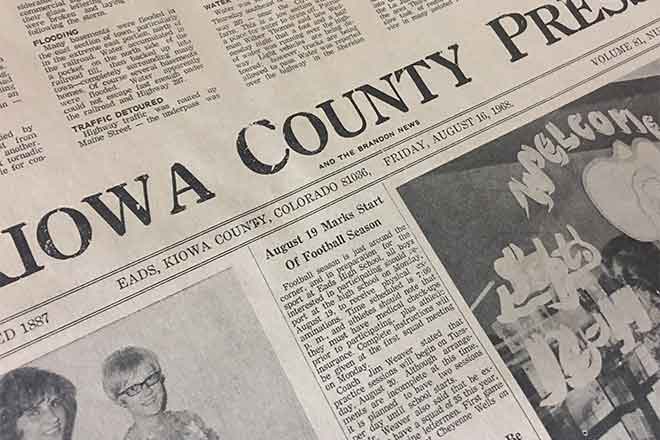 Published
Friday, June 21, 2019
15 Years Ago
June 18, 2004
The Colorado Department of Public Health and Environment joined Tri-County Health Department and the Pueblo City-County Health Department in confirming Colorado's first two report human cases of West Nile Virus.
USDA Update-Rod Johnson: Hard rain with high wind hit the central portion of the county with precipitation amounts up to 1.3 inches.
Brad Hopkins takes his first win in 2004 at May Valley Speedway.
June 21has been set for the grand opening celebration and open house for the Nipps-Bransgrove building.
25 Years Ago
June 24, 1994
Towner News-Ann Harkness: There have already been a couple wheat/hay fires in the area due to the extremely dry conditions.
40 Years Ago
June 22, 1979
Kiowa County 4-H member Cindy Berry will join more than 70 other outstanding youth and adults from Colorado to attend a citizenship program in Washington D.C.
Tornadoes and high winds struck north of Cheyenne Wells at dusk leaving the town and nearby Kit Carson without electric power for nearly two hours.
50 Years Ago
June 20, 1969
Reorganization of the extension service in the lower Arkansas Valley into a single multicounty unit is being considered by the boards of county commissioners.
It has been a good many years since this country has looked so good with only a few exceptions where rain has been light.
Following some research on the matter, we find that by Town Ordnance No. 93, passed Sept. 16, 1941, "It shall be unlawful for any person to shoot, fire, or discharge an air rifle or "B-B" gun in, or into the corporate limits of the Town of Eads."
75 Years Ago
June 16, 1944
It was perhaps a small crowd for them, but the local gymnasium was well filled when a troupe of talented performers, some of nationwide fame, from Buckley Field presented their show in behalf of the 5thWar Loan Drive.
Mr. & Mrs. Henry Knudtson of Kit Carson have purchased the J.M. Infield residence and are expected to make their home here in the near future. The Infield family is now located in Wichita.
100 Years Ago
June 20, 1919
George Crow sold all his interest and good will in the Eads Dray Line to Oscar York. Mr. York has just returned from the army.
The big tent has been rolled up and sent away. The members of the several troupes have gone on their way but there will linger in our minds for many days the memories of the good things we heard and the splendid entertainment we enjoyed.