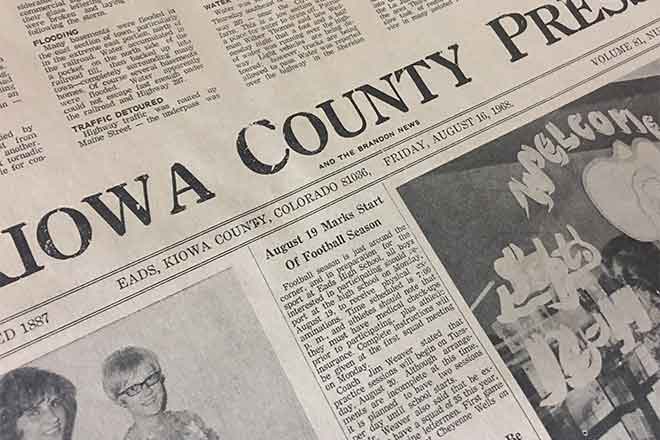 Published
Saturday, June 29, 2019
15 Years Ago
June 25, 2004
USDA Update-Rod Johnson: The weather has kept things interesting around here this past week. We have had hot weather, cold weather, wind, hard winds, possibility of tornadoes, mist, some rain, more rain. And have experienced something called MUD.
Guy and Mary Shafer of Haswell were presented an award as June winner of the Haswell Beautiful Yard of the Month Contest.
25 Years Ago
July 1, 1994
Wild Horse Roundup- Curtis Schrimp: A truck caught fire west if Wild Horse. You could see the smoke for miles. It was a real barbecue I guess as it was loaded with 44,000 pounds of meat.
Nursing Home News-LaVerne Fischer: A new experience for residents when a ground hog came up the ramp and demanded entrance. Our nurses stomped their feet at him and he changed his mind deciding this was a dangerous place--but the residents were quite excited for a while.
40 Years Ago
June 26, 1979
From the Sheriff's desk-Floyd Griswould: I would like to inform people that in an emergency situation such as the fire Tuesday night, the Sheriff is charge of the emergency or situation. Even if the Army, Navy and Air Force are called in, the Sheriff is still in charge and control of the emergency.
Brent Ritter, a hometown boy, will enter the American Institute of Musical Studies in Graz, Austria, features workshop for career students. Mr. Ritter shared his wonderful talent with friends at a concert held here June 25.
50 Years Ago
June 27, 1969
Strong winds, hail and thunderstorms have lashed the area resulting in crop losses for some farmers.
Towner Lions Club announced that they will again sponsor their annual ice cream social and fireworks display on July 4.
Mr. & Mrs. Glenn Eastabrook of Morongo Valley, California are on a "Rock Hound Tour" from Morongo Valley through Colorado, Texas and Missouri trading and collecting rocks, and visiting relatives.