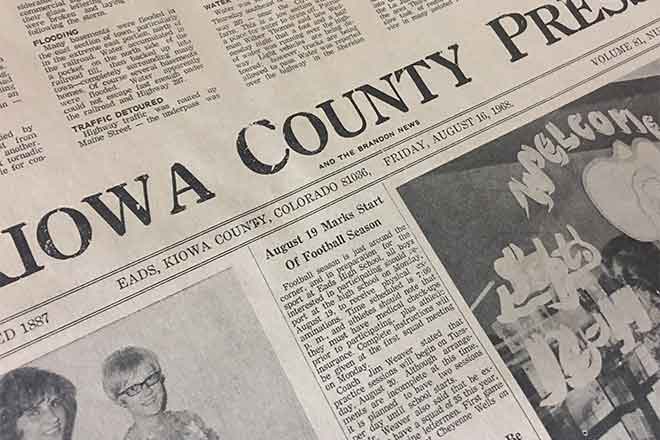 Published
Saturday, July 20, 2019
15 Years Ago
July 16, 2004
Gail Crawford shows off awards given by his family after shooting a hole-in-one on par three No.3 hole at Eads Golf & Country Club. This was the second time Crawford has hit the hole-in-one on #3. The first time was long before the grass greens were completed in late 1990's.
About Town- Ida and Doris Lessenden: Gloria Peck was a Baseball Commissioner in Florence for the All-State under 12 Baseball Tournament.
Wild Horse Roundup-Curtis Schrimp: I was told Randy Wilson and Jake Trahern traveled to Hawaii to play ball. The team they were on won, so that was nice.
Wild Horse Roundup-Curtis Schrimp: Will wonders never cease? Friday evening the rains came and when they stopped, we had 2.45 inches.
25 Years Ago
July 22, 1994
Eagle Vision LLC, the wireless and cable television system company based in Eads, will celebrating its first year of operation.
Towner Tales-Ann Harkness: The east end of Kiowa County was under severe storm warnings several evenings last week.
40 Years Ago
July 20, 1979
Clyde Frazee, Kiowa County Commissioner, cuts the ribbon officially opening the new bookmobile to the public.
The Eads 69,000-volt transmission line owned and operated by Southeast Colorado Power Association that serves Kiowa County has been experiencing some problems. The replacement of the single pole existing line with the proposed $1.2 million H-structure line will increase the capacity and service reliability considerable to the Kiowa County area.
The Eads Assembly of God Bike-A-Thon was termed a "total success" according to Rev. Ed Soules, Pastor. Those participating in the Bike-A-Thon were: Mike Crawford, Matt, Mike & Melissa Krei, Steve Phillips, Danny Walker, Billy & Jeff Woelk, Chuck Emmert, Sharon Laird, Paul Daniel, and Pastor Soules
50 Years Ago
July 18, 1969
First National Bank in Eads will be closed Monday, July 21, I recognition of the Apollo Moon Flight, as recommended by President Nixon and Governor Love.
75 Years Ago
July 14, 1944
The State Highway Department's oiling crew moved to Eads and is now repairing Highway 287 north of town. Frequent showers since they have been here have made it difficult for traffic to get over the road they have worked up.
100 Years Ago
July 18, 1919
We received a box of fine cherries this week from George Haddock that were gathered from the trees on his ranch north of Galatea.
The C.C. Annible Reality Company of Otis, Colorado, has opened a branch office in Eads and will work this territory.
The pendulum has swung to the other side and luck is now with the drillers at the big rig on the Nee-No-She dome southeast of Eads.