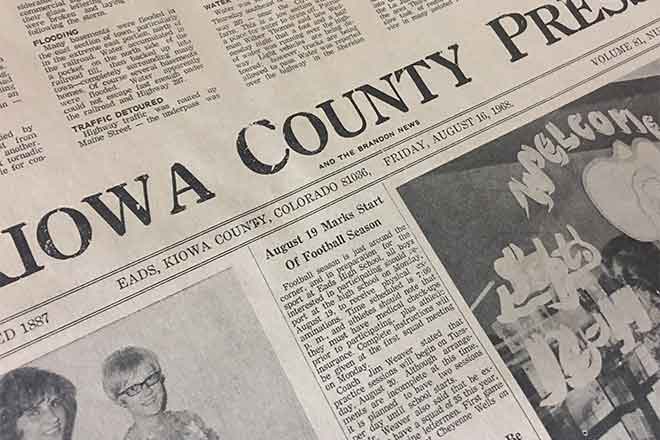 Published
Friday, September 13, 2019
15 Years Ago
September 10, 2004
Kiowa County Nursing Service, along with public health agencies in surrounding counties, will hold mass vaccination exercise. An opportunity for local public health and emergency response personnel to gain valuable experience in how to conduct a mass immunization, but also for some local residents to get a free flu shot.
Wild Horse Roundup-Curtis Schrimp: It has been about 30 years since the first Melodrama was held. It now has a permanent place in the old pool hall.
25 Years Ago
September 16, 1994
Following their successful 12thseason of the Kiowa County jamboree, the Cactus Players of Kiowa County announced they will host the well-known melodrama troupe from Kit Carson.
Towner Tales-Ann Harkness: The thunderstorm with intense lightning struck in a CRP field across from the Lindy Stum farmstead. Local firefighters were responding to the fire when a thundershower put it out. Another lightning strike started a fire at the Mike Splitter home. Lightning traveled down the TV tower and into the home, causing fire in the wall. Mike quickly extinguished it and local firefighters helped to check for any addition damage and do some repairs.
40 Years Ago
September 14, 1979
From the Sheriff's Desk: Floyd Griswould: On Friday, some of us were quite late in getting the rodeo performance because of a court case that had been scheduled for some time. He was found guilty and given the choice of going to jail or paying a fine. At first, he refused to pay the fine, so we had to lock him up. Later on, he paid the find and we were able to go to the fair and maintain security there.
50 Years Ago
September 12, 1969
Missing Piper Cherokee 140 was found shortly after noon Wednesday southwest of Eads. The plane crashed during heavy rain Tuesday. Wreckage was scattered over a large area.
A large portion of Kiowa County received a soaking rain late Monday night and all day Tuesday, bringing smiles to wheat farmers who have their fall wheat planted. Sheridan Lake reported five inches in town, Murdock home five, and seven at the Boulware home. In Eads, John E. Jacobs recorded 4.6 in the government gauge and at Brandon, Mrs. Oren White recorded 3.15 on the official gauge.
75 Years Ago
September 8, 1944
A special feature at the Kiowa County Fair will be a matched race between Gold Banner, owned by Eddleman of Lamar, and Jane Greenock, owner Charles Briley of La Junta.
Tom Jarrell of Childers, Texas, recently purchase a huge ranch from Duke Bryson, located in southeast part of Kiowa County. He was accompanied to Eads by another Texas friend, Claude Benton of Sheridan Lake, who say that portion of Kiowa County from highway 51 is becoming known as "Little Texas."
100 Years Ago
September 12, 1919
A building boom has hit Eads. There are at least four new homes already in process of construction or contracted for. The Low Hotel is well under way and a couple of weeks will make quite a showing in the work on this building. The construction is cement block veneer. C.L. Denney has just completed his new chapel, which, when entirely furnished will be a very handsome building. T.F. Prajer has started the erection of a new residence and A.R. Rittgers and C.H. Tracy have contracted for new homes