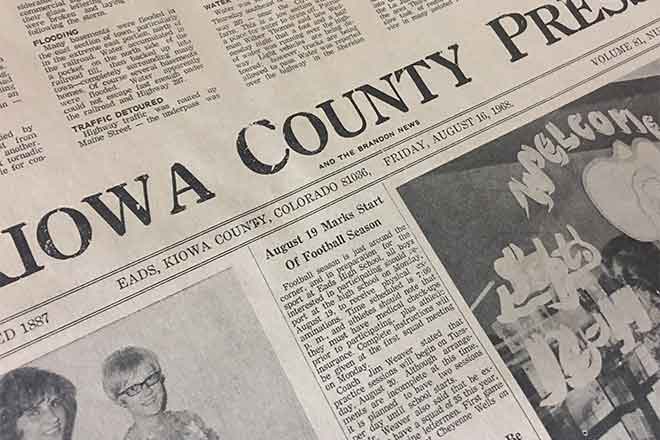 Published
Saturday, January 11, 2020
15 Years Ago
January 14, 2005
Wild Horse Roundup- Curtis Schrimp: The picture of the old movie theater in the Hugo paper brought back memories. When I was in the C.C.C. in 1935, I went to quite a few shows there.
25 Years Ago
January 13, 1995
About Town- Ida Lessenden: Isn't the new postage stamp a headache? But with the little $.03 stamp, you get to have pretty birds on them to add to your left over $.29 stamps.
Nursing Home News- Nellie Nickert: The Auxiliary ladies pinned name tags, corsages and boutonnieres on each resident before serving dinner of steak beef and shrimp.
40 Years Ago
January 11, 1980
Eads has been selected as the site for this year's area "Little Britches Rodeo."
As the result of a desire many to have a reunion or "get-together" of the Haswell school, it has been decided to attempt a gathering this coming summer.
50 Years Ago
January 7, 1970
Brandon: The hopes and dreams of the Brandon folks of attaining a oil well in town were shattered when L & F Drilling Company of Lamar hit a duster and moved their equipment to another location.