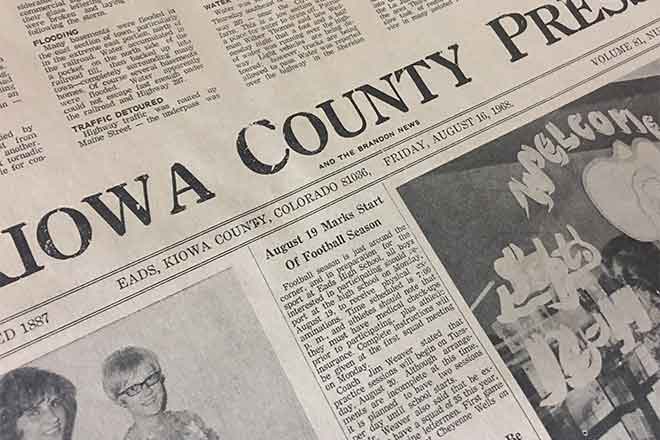 Published
Tuesday, January 21, 2020
15 Years Ago
January 28, 2005
Senator Wayne Allard introduced bill to designate Sand Creek Massacre National Historic Site.
KVAY announced the Second Annual Most Eligible Bachelor and Bachelorette Auction.
Wild Horse Roundup- Curtis Schrimp: Saturday we had a party and it was a good one with 61 people there. There is nothing that can take the place of friends and I have a lot of them.
East End Events- Lana Weber: I would like to propose that the main roads in Sheridan Lake get blacktop. The last I heard, there was the cash to do so.
25 Years Ago
January 27, 1995
The Huffy Corporation has announced the promotion of Daryle Lovett to the position of President and General Manager of Gerry Baby Products. Lovett, son of former Eads resident Kay and the late Ellery Lovett, graduated from Eads High School in 1968.
Towner Tales- Ann Harkness: Area farmers are becoming increasingly concerned about dry conditions and what may pose with spring just around the corner.
40 Years Ago
January 25, 1980
Even though the Prairie Queen area was struck by drought in 1979, a sample of sorghum heads from John E. Jacob was again named sweepstakes champion at the Colorado Pure Seed Show.
Nursing Home News-LaVerne Fischer: The Karval Keenagers entertained with plenty of good toe-tapping music Thursday
50 Years Ago
January 23, 1970
Kiowa, Prowers, Baca, Bent, Otero, and Crowley counties are joining together to form a Resource Conservation & Development area.
A number of area residents attended the National Stock Show in Denver.