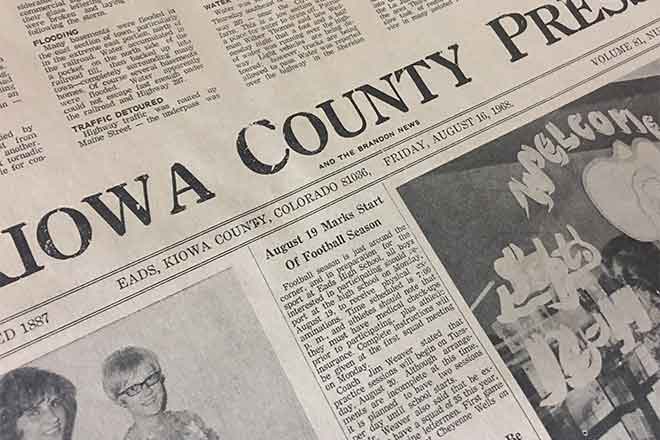 Published
Friday, June 5, 2020
15 Years Ago
June 10, 2005
Justin Crow left for St. Joseph, Missouri, to join fellow teammate Seth Gilland to play summer baseball with the St. Joseph Saints. The Saints are one of 135 teams affiliated with National Baseball Congress.
East End Events -Lana Weber: The seniors returned from their week in Florida. The weather wasn't the best for half the week.
Kit Carson Clips - Marilyn White: There were 48 teams and $69,000 raised in the Relay for Life held in Savage Stadium in Lamar.
25 Years Ago
June 9, 1995
Storms across the southeast Colorado have cause extensive crop damage and flooding. Volunteers were called in to help fill sandbags in Wiley.
40 Years Ago
June 6, 1980
The annual meeting of Eastern Slope Rural Telephone Association will be held at Haswell.
Southeast Colorado Power Association announced a new office in Eads has opened.
From the Sheriff's Desk - Floyd Griswould: Have you been down and looked at the lakes lately? They sure have a lot of water in them.
50 Years Ago
June 5, 1970
Herman Mays of Eads proved that our lakes here in Kiowa County can and do afford local anglers with plenty of sport. Mays was fishing the Upper Queen Reservoir, when he felt a tug, followed by considerable action and play that resulted in landing a 10.5 pound 29-inch Channel Cat.
75 Years Ago
June 1, 1945
Preliminary county of returns of the 1945 census of Agriculture shows the number of 382 farms in Kiowa County compared to 454 in 1940 and 617 in 1935.
100 Years Ago
June 4, 1920
Someone entered Huts' Cafe, helped themselves to about $3 in the cash drawer, then attempted to go to the rear of the building, waking Mr. Crumplely, who took a couple of shots but failed to hit.
Lightning burned out the switch board of the Chivington Telephone Company at Eads. A new one will be necessary before service is resumed.
Severe windstorm did some damage around town. It took part of the covering from the railroad water tank, demolished a home near there and broke windows in business in town