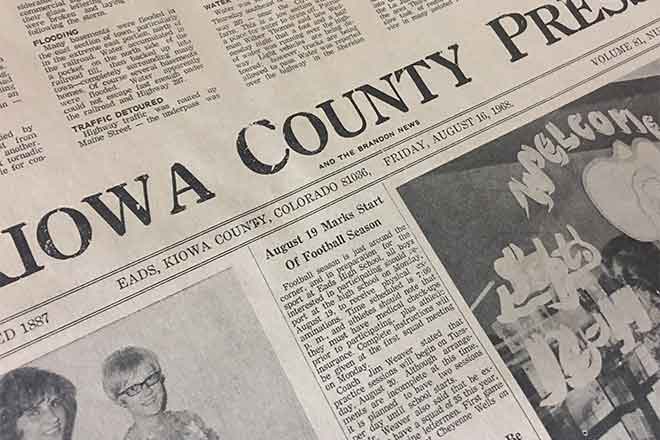 Published
Saturday, June 20, 2020
15 Year Ago
June 24, 2005
Governor Bill Owens announced the appointment of Janet L Frederick of Eads and Stepanie Foote of Denver to the Colorado Tourism Office Board of Directors
Mary Marble receives 50 Year Membership Pin in the Grand Master of Grand Lodge of Colorado I.O.O.F.
Kit Carson Clips -Marilyn White: The Mount Pearl get-together at the senior center was well attended and enjoyed by all. It honestly sounded like a beehive in there.
25 Years Ago
June 23, 1995
Work is nearing completion on the new railroad crossing guards being installed on Maine Street in Eads.
CFSA Update: If you are one of those who throws everything away for CFSA Office except for the "green paper" in brown envelopes, you want to read this: You will no longer receive "green" checks from CFSA Office.
Kit Carson News: The sky opened up and turned the floodwaters loose. It rained so hard the visibility was zero the west side of Kit Carson.
40 Years Ago
June 20, 1980
Hail, rain, and wind which whipped across the eastern end of Kiowa County destroyed thousands of acres of wheat. Gary Tuttle, who farms north of Towner, lost 100% of his wheat crop.
50 Years Ago
June 19, 1970
Haswell: There were reports of two to almost three inches of rain received north of Haswell. Northeast of town, in the Red Lake area, almost four inches was reported.
75 Years Ago
June 15, 1945
Rain and hail continue to come in many localities with a result that cool weather has prevailed. The Prairie Queen community was hit hard with hail that caused much damage.
100 Years Ago
June 18, 1920
The big steel tank and tower for the Eads waterworks system has arrived. Work has been delayed on account of local absence of cement.
Linemen have been busy putting up electric light wires in Eads this week, making the town look more metropolitan every day.