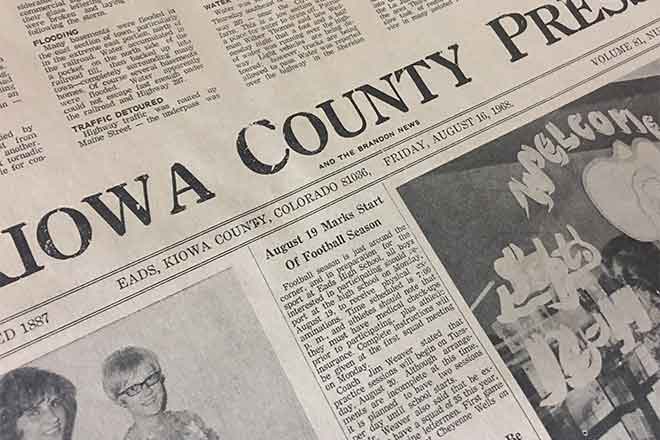 Published
Saturday, July 18, 2020
15 Year Ago
July 22, 2005
West End Wavelength - Michelle Wyckoff: Wanda and Virgil branded Sunday, so you know what that means. Everyone in 'town' begged to help so we would all squeeze in there for prize-winning dinner.
25 Years Ago
July 21, 1995
The District 4-H Horse Show held at the Sand & Sage Fairgrounds. In the intermediate division was Brandy Shalberg from Kiowa County, who took top-around honors.
40 Years Ago
July 18, 1980
The Nation's top Little Britches Rodeo will be in Eads to perform 22 approved events.
From the Sheriff's Desk - Floyd Griswould: Anyone that may have borrowed, or anyone that seen someone pulling one of those large implement carries from the Barlow shop, please call the office.
From the Sheriff's Desk - Floyd Griswould: Anyone who borrowed or knows of someone who borrowed and 8' stock tank from Benny Fischer, please call the office.
50 Years Ago
July 17, 1970
Twenty-four cars of the Missouri Pacific train derailed six miles west of Haswell, stopping rail traffic in both directions.
100 Years Ago
July 16, 1920
Neiman and Hicks are making good progress on the building to be devoted to a planing mill. The walls are nearing completion and already show what a substantial building this will become.