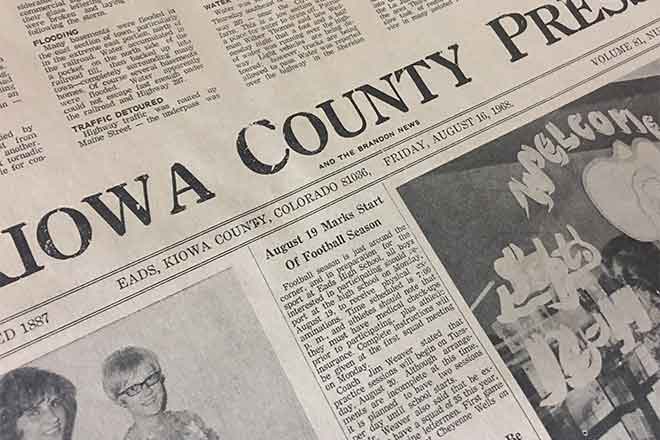 Published
Saturday, August 1, 2020
15 Years Ago
August 5, 2005
President George W. Bush signed the Sand Creek Massacre National Historic Site Trust Act of 2005 into law.
Senator Wayne Allard has secured $3 million for improvements to the Ports to Plains Corridor in southeast Colorado.
The Kiowa County Fair Board announced there will be three concert performances this year fair. Jay Teter will be at the fairgrounds for his only schedule performance in Colorado. The Bar-D Wranglers will be serving up family entertainment with two performances at the Crow-Luther Arts Center.
Kit Carson Clips - Marilyn White: The 2005 Cheyenne County Fair is over and everyone at this house is exhausted.
25 Years Ago
August 4, 1995
Come by the community building to see the best work of the Kiowa County's outstanding youth! Exhibits made by 4-H members in home economics and general projects will be on display.
40 Years Ago
August 1, 1980
Weisbrod Memorial Hospital and Kiowa County Hospital District have developed a project for improvement and expansion of the hospital and nursing home facility.
The first Kiowa County Little Britches ever to be staged was termed a big success form the National Directors on down to the local level.
The Haswell School Reunion was termed an over-whelming success by all who attended.
Senator Gary Hart appealed to the and major railroads serving eastern Colorado to make additional rail cars available to move grain harvest in Colorado.
50 Years Ago
July 31, 1970
Hi-Plains League All-Tournament team started play in the 16-18 Babe Ruth Section baseball tournament at Cheyenne, Wyoming.
The 33rd Annual Kids Rodeo, the oldest Kids Rodeo in captivity, is scheduled to get underway at the Kids Rodeo Grounds north of La Junta.
75 Years Ago
July 27, 1945
The Scott rooming house in Towner was the scene of a robbery about 1:00 a.m., in which four persons were relieved of approximately $600.
The Trustees of the Town of Eads passed an ordinance restricting the use of water for irrigation purpose and reserving the supply for household use and as fire protection.
100 Years Ago
July 30, 1920
The county grader just completed another six miles of graded road four miles west of Eads and following the mail route. After this road is worked and dragged a few times it will be an excellent road.
The engine for the Eads water works and electric light plant arrived, but a delay in installation is caused by the failure of the foundation bolts to arrive. They have been lost somewhere on the railroad.