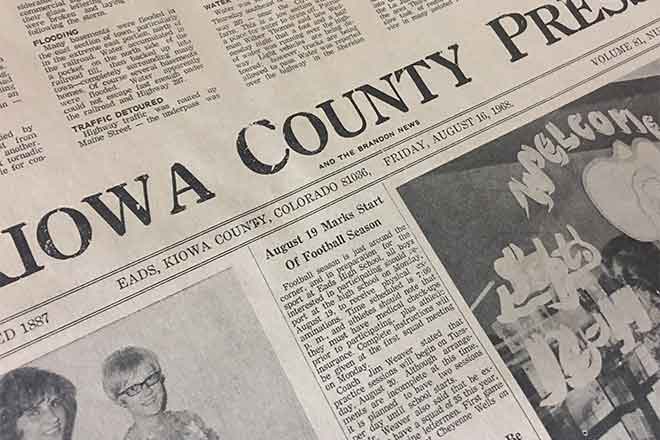 Published
Saturday, October 10, 2020
15 Year Ago
October 14, 2005
USDA Update -Rod Johnson: Rain, rain and more rain. Anywhere from 1.5 to 4 inches of rain fell across Kiowa County.
The Eads FFA Chapter is helping with the Hurricane Relief Fund by holding a car bashing.
25 Years Ago
October 13, 1995
East End Events: The wind blew up to 45 mph, which might cause some crop damage. There were some reports that corn had been blown over.
Wild Horse News -Curtis Schrimp: We had a bit of a blow last week so I kept my log chains inside so it couldn't snap the ends off.
Nursing Home News -Nellie Nickert: How about that wind. It couldn't have been a far reach off the hurricane in Florida.
About Town - Ida Lessenden: All day long and throughout the evening we were tormented in Kiowa County by dangerously high winds, as was much of Colorado.
40 Years Ago
October 10, 1980
Bob Jones, Eads Fire Chief, was asked why four hydrants have their tops painted a bright yellow. He replied, to let the firefighters know those hydrants did not work.
George Tempel, President of Tempel & Esgar, Inc., announced the recent acquisition of the grain elevator in Eads.
Nursing Home News - LaVerne Fischer: Residents are taking their formals and suits out of moth ball in preparation the annual "kick off the holidays" party to be held before Thanksgiving.
50 Years Ago
October 9, 1970
Extension News: The appointment of George H. Ellicott as Extension Agent in Kiowa County effective October 1.
A new 16-bed intermediate care section will be open to use in the nursing home section at Weisbrod Hospital.