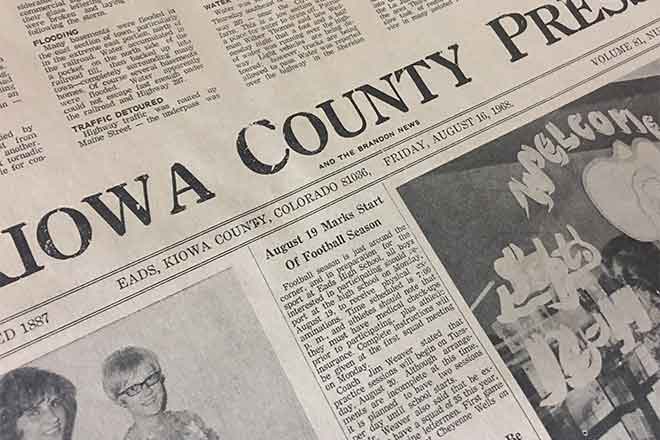 Published
Tuesday, February 4, 2020
15 Years Ago
February 11, 2005
Wild Horse Roundup -Curtis Schrimp: I know a lot of you know I get a little dingy at times and this evening was one. I am watching a polka show on R.F.D. Really great music got my feet to jerking and the next thing you know I am up dancing.
25 Years Ago
February 3, 1995
Towner Tales - Ann Harkness: The Plainview Quilting Chapter became organized last week and will hold their first meeting February 11.
40 Years Ago
February 8, 1980
Sheridan Lake Ripples- Mrs. Oren White: It took Mr. & Mrs. Eugene Splitter and family three hours to travel 27 miles during the height of the blizzard.
From the Sheriff's Desk -Floyd: A Stratton man came in to spend some time with us. He was found guilty in county court of eluding a police officer and driving on a suspended license.
50 Years Ago
February 6, 1970
Late Flash--Just going to press, two prairie fires were reported. The local fire alarm was sounded for one just west of Prairie Queen road and the second, reportedly set by a passing train just west of Chivington.
Something to think about- Oddity: Eads has a Crow, we call him Clyde, that takes care of hundreds of Pigeons.
75 Years Ago
February 2, 1945
With rather amazing speed for times like the present, the Southeast Power Association has completed a highline from the south connecting Eads with the power plant at Lamar.
100 Years Ago
January 30, 1920
H. Crumpley, who has been running the dining room at the Commercial Hotel, has leased the Doyle restaurant.
The biggest load of corn ever hauled to Eads was brought in by L.H. Freese. It contained 120 bushels and 30 pounds and brought a handsome sum of $160.70.
100 Years Ago
February 6, 1920
Thomas Jenkins has opened a real estate and loan office in Chivington.