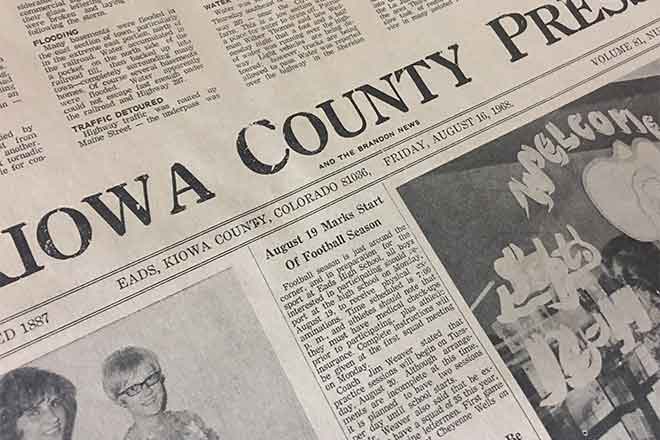 Published
Sunday, November 15, 2020
15 Year Ago
November 18, 2005
New store in Eads, called Thursdays on Maine, held a "sneak preview."
David Kraft was the State Motocross Championship for the second year in a row. Don Lynn finished 4th and Bryce Kraft took 8th overall in his class.
25 Years Ago
November 17, 1995
FSA Update- Rod Johnson: It finally official. We are now the Farm Service Agency CFSA. Although we have been using FSA for the past couple of months, it is now official.
Wild Horse Roundup- Curtis Schrimp: Billie Lafferty and I went to Boyero and watched the prairie fire. I believe that was as big a fire as I have ever seen.
40 Years Ago
November 14, 1980
The 80-foot-high, 40,000-bushel frame and corrugated steel Boulware Elevator, structure since 1946, fell before a crane-swung wrecking ball.
The annual Eads High School Powder Puff football game turned out to be an exciting one even though the teams battled to 0-0 tie.
50Years Ago
November 13, 1970
Miss Ruthanna Jacobs submitted the winning slogan, "A Place in the Sun," in the SCEDD Regional Ambassadors Campaign contest.
75 Years Ago
November 9, 1945
W.H. Culver, who has operated the Culver's Service Station the past two years, has purchased the property, including the station, equipment, restaurant, and tract of lots.
100 Years Ago
November 12, 1920
Sometime Saturday night, the J.W. Blair hardware store was entered by burglars and about $270 in cash taken. Mr. Blair is offering $50 reward for his arrest and conviction.
The Kit Carson girls' game was forfeited to Eads 2-0 because of unbecoming language and rough play, which disqualified the referee and every Kit Carson player.