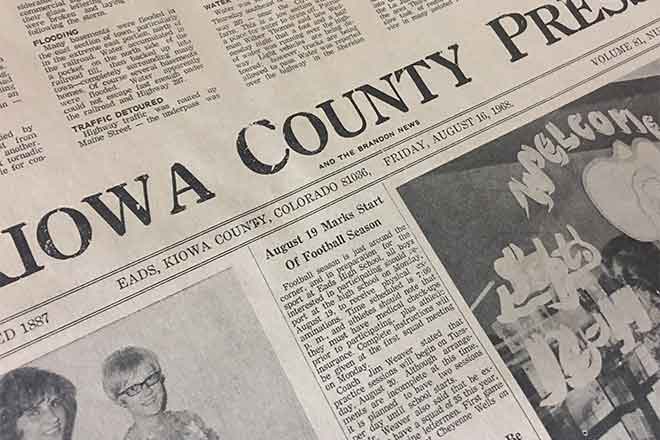 Published
Sunday, November 29, 2020
15 Year Ago
December 2, 2005
The Sand Creek Massacre National Historic Site helped host the 7th Annual Northern Cheyenne Spiritual Healing Run.
Kit Carson Clips -Marilyn White: WOW... Mother Nature sent winter in with a blast. High winds and blowing snow made terrible road conditions for holiday travelers.
25 Years Ago
December 1, 1995
FSA Update -Rod Johnson: We have our new computers up and running! The new unit is about 1/5 size of the old and has much greater storage. The big benefit to producers is the increase in speed.
East End Events: Many friends and relatives came to eastern Colorado for the holiday, and many of our residents traveled elsewhere. It seems all enjoyed their holiday no matter where they were.
40 Years Ago
November 28, 1980
Nursing Home News -LaVerne Fischer: Residents enjoyed their pre-holiday party. The Karvel Keenagers were guest and entertainment during the afternoon.
50Years Ago
November 27, 1970
Haswell: Delisa Eikenberg is wearing a cast on her arm due to an injury last Saturday.
Three hundred and twenty-two children received the German Measles vaccination in Kiowa County.
75 Years Ago
November 23, 1945
Tabulation of Victory Bond sales in Kiowa County shows that people have not responded to the call for government investments in proportion to previous war loan drives.
100 Years Ago
November 26, 1920
Another of our county towns is planning to incorporate. Towner has decided to incorporate and become a real town.
We have discovered to whom the cows belong that graze at will in the town of Eads. Howard Sunday has been taking the cows in exchange for Fords. If he intends to pasture in the streets until he secures enough for a carload shipment, let us hope the farmers without Fords will feel the need and make an exchange.