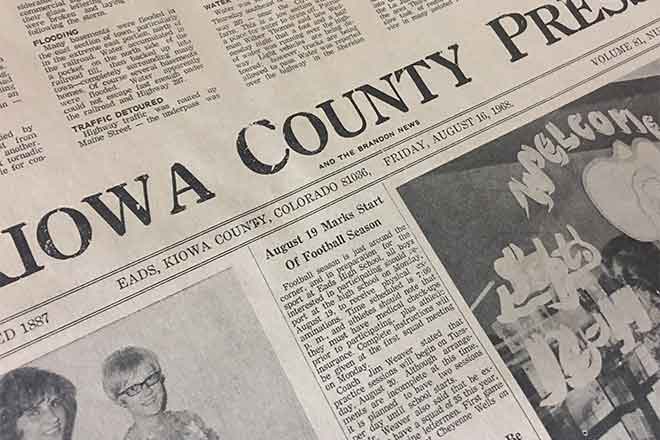 Published
Sunday, December 13, 2020
Pages from the Past
15 Year Ago
December 16, 2005
Kiowa County Sheriff Forrest Frazee presented a $340 check to Baby Bear Hugs staff member Shelly Engelhardt. The funds were proceeds from a dance the Sheriff's Office sponsored during the fair and will be used to provide child safety seats.
25 Years Ago
December 15, 1995
Commissioner Cardon Berry stated that efforts continue to protest the proposed abandonment and all possible options to keep the railroad are being explored.
East End Events- Plainview 6th Grade: There will be town team volleyball matches Dec 13 and 20 at the Plainview School.
About Town- Ida Lessenden: Another house on our block bit the dust as giant machines splintered and smashed the Lane house.
40 Years Ago
December 12, 1980
Santa will be at a local store Friday evening 6:00-9:00 pm. Then, on December 20, Santa will arrive downtown Eads with his "sleigh" full of treats for all good little girls and boys.
50 Years Ago
December 11, 1970
Most people realize the cost of merchandise, labor and supplies are increasing. Effective January 1,1971, subscription rates increase by $1. Anywhere in Colorado will be $4. Outside of Colorado moves to $4.50.
75 Years Ago
December 7, 1945
During the past few years, the population of Kiowa County District #2 has increased to such an extent that in order to comply with the Statute of the State of Colorado, it became necessary to re-divide the population of Districts 1, 2, and 3 in such a manner as to equalize the area.
100 Years Ago
December 10, 1920
A 7,000-pound howitzer, six-inch bore and barrel seven feet in length, mounted on a carriage and belonging to the Field Artillery, is on the way to Eads. The cannon is a gift to Eads and the county at large. The cannon will probably be placed on the courthouse lawn.