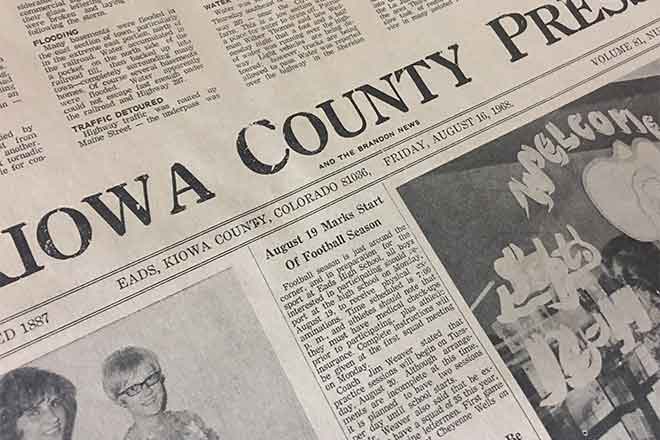 Published
Sunday, December 20, 2020
15 Year Ago
December 23, 2005
Joyce Berry wrote an essay describing her dreams for her grandchild and won $5,000 college savings plan to help those dreams come true.
Eads citizens voice concerns regarding cats in their neighborhood. They estimated 50 to 60 cats in the area, many of which appeared unhealthy.
25 Years Ago
December 22, 1995
East End Events- Plainview 6th Grade: There were carolers going around to the houses in Sheridan Lake, Towner, and Brandon.
Dear Santa: How is Mrs. Claus? Is she tired of making cookies for the Elves and Reindeer? I am fine. I want to mention I'm going to be in Oregon all Christmas vacation
40 Years Ago
December 19, 1980
Checks, daily cash register tapes and deposit slips taken in the August break-in of Kiowa Drug have been recovered. Leisha Dunlap and Bill Jennings found the items in a 1st National Bank money bag while searching for a gas cap in a barrow pit.
Letters to Santa: Please give me a cow and a horse and a cowboy hat. Have a nice Christmas. I will leave you some cookies on the mantle.
Letters to Santa: I would like one well bred mare, 2 good breeding stallions, 2 matching saddles, blanket bridles and 1 house in the country by Duff and some more horses.
50 Years Ago
December 18, 1970
Smoke and "fireworks" were all that resulted when the local fire alarm sounded calling volunteers to Clyde Crow's Stop and Shop. A ballast of a light fixture shorted causing much smoke and considerable sparking.
75 Years Ago
December 14, 1945
The Eads public school was closed because of wide-spread illness in the community.
100 Years Ago
December 17, 1920
A few cases of smallpox have appeared at various points over the county. The fact these cases are scattered should not be taken to mean that precautions are unnecessary.
C.L. Ptomey of Arlington was nearly struck by a bullet shot by an unknown party. The bullet came through the middle sash of the window struck the rung of the chair in which he was sitting.
H.A. Long's building, which he had just moved from the business section of Eads to the west part of town was destroyed by fire. The fire is supposed to have started from some trash in which mice evidently started some matches.