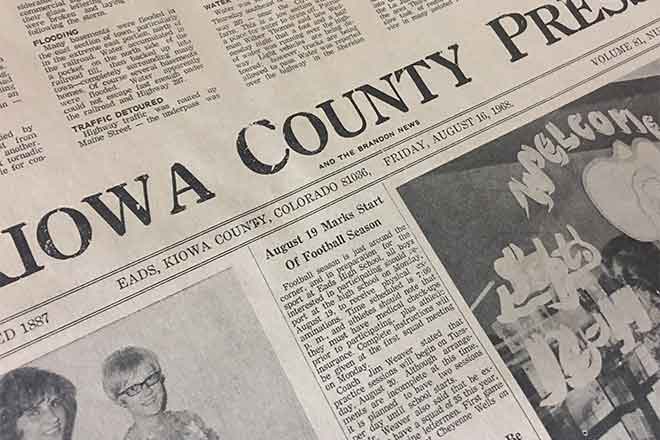 Published
Tuesday, March 3, 2020
15 Years Ago
March 11, 2005
The number of people arrested following an investigation of an alleged double burglary at the Eads County Club doubled to six.
The Eads Girls and Boys Basketball teams are headed to state playoffs.
Plainview Science Fair Winners traveled to the LCC Wellness Center Gym to compete in the Southeast Regional Science Fair. Of the 19 competitors, 16 placed in the top 4 in their division.
East End Events- Lana Weber: The Cubbies and Sparks went to Eads to Jay and Duff Haase's ranch and took a nature hike to see all of the wonderful scenery.
25 Years Ago
March 10, 1995
Wild Horse Roundup- Curtis Schrimp: I was told three tractors disappeared from a place north of Wild Horse. I haven't heard any more, so I don't know if they have any idea where they went.
The Second Annual Carnival planning has begun. The first Carnival, held in 1994, was a popular event and this year's should prove to be an even bigger success.
40 Years Ago
March 7, 1980
The Kiowa County Press was awarded the third place award for Community Service among weekly newspapers in Colorado.
From the Sheriff's Desk- Floyd Griswould: I have an open-door policy and you can call or come in and ask any questions you may have and I will try to answer them. Believe it or not I do have people come in time to time and ask "how come I do this or that?"
50 Years Ago
March 6, 1970
Eads Eagles set a new tournament team high in scoring with 95-point win against Arapahoe.
Plateau Natural Gas Co will be absorbed into Peoples Natural Gas, the retail division of Northern Natural Gas Co. Northern Natural Gas acquired the assets of Plateau, serving the communities of Eads and Brandon, and the Brandon Oil Field.