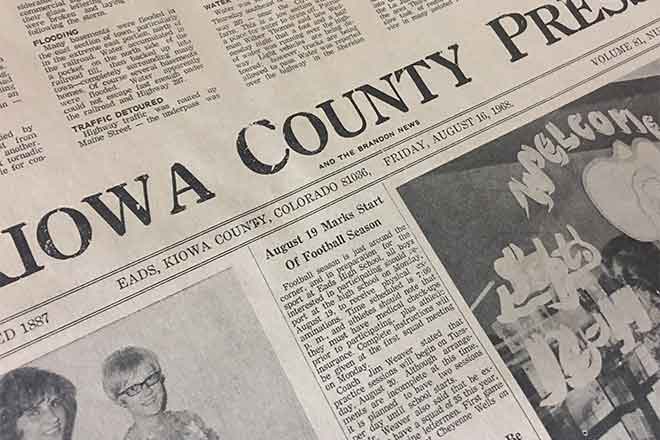 Published
Saturday, March 14, 2020
15 Years Ago
March 18, 2005
East End Events -Lana Weber: Debbie Shivers says it's going to snow this week. If the weather is incorrect this week, she is the one to blame, not me.
Erin Specht won second place in the Colorado Council of the International Reading Association's annual You Writer's Award contest
Wild Horse Roundup - Curtis Schrimp: The turkeys are getting brave, as I've seen some twice on the highway, so I ran them off.
25 Years Ago
March 17, 1995
Nursing Home News- Nellie Nickert: If you are a pioneer, you owe it to yourself to take a pen in hand and write the history of your parents and accomplishments to be noted in the annals of time.
40 Years Ago
March 14, 1980
From the Sheriff's Desk- Floyd Griswould: Everyone seems to have a different idea of what the right way is. If you don't believe me, watch the intersection of Maine and 7th and 14th streets right before or after a basketball game.
50 Years Ago
March 13, 1970
From the Mail Bag: Enclosed find check for another year, and I hope the mail service is better than last edition. I realize mail service is about the same as we had during Pony Express days, but this is lousy.
U.S. Air Force Captain Arthur J. McFarlane, Towner, has been awarded the Distinguished Flying Cross for air action in Vietnam.
75 Years Ago
March 2, 1945
The restaurant building at Hooker's service station in the southeast part of Eads burnt to the ground.
100 Years Ago
February 27, 1920
G.H. Weber has opened a music store in Eads and for present, can be located at Dr. J.G. Hopkins office building.
100 Years Ago
March 5, 1920
The furniture in the new Low hotel has arrived and being put in place. The name of this new modern hotel will hereafter be known as the Rialto.