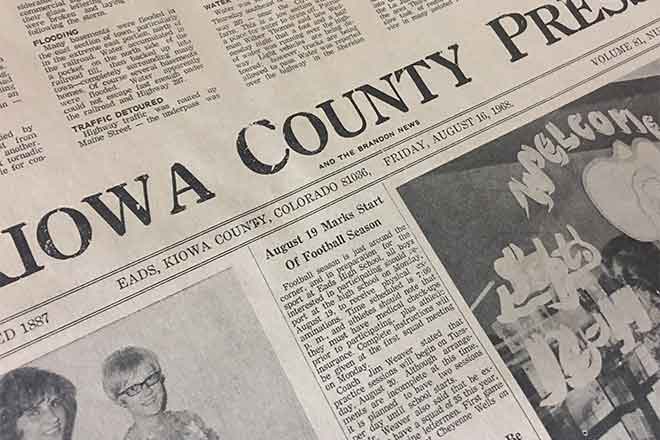 Published
Sunday, January 3, 2021
15 Year Ago
January 6, 2006
The Journalism Department of Eads High School was awarded the prestigious Robert Hoag Rawlings Foundation Award.
Marvin Watson, District Conservationist, NRC, and Vern Harris, Kiowa County Commissioner, were awarded the 2005 "Teammate of the Year" award from the Colorado State Forest Service.
The Colorado Department of Transportation and the V & S Railway, Inc., signed an agreement regarding the sale of the North Avondale-Towner railroad line.
25 Years Ago
January 5, 1996
The Colorado High School Activities Association named over 2,500 activities participants to the Fall season Academic All-State team, including 11 from Eads and four from Kit Carson
Nursing Home News- Nellie Nickert: Pre-Christmas parties were the rage here and and all about.
40 Years Ago
January 2, 1981
The Eads City Council announced that it has found it necessary to increase rates for water, sewer and sanitation citing ever-increasing cost of maintenance and replacement of equipment, materials and labor.
50 Years Ago
January 1, 1971
Mr. & Mrs. Leonard Schmitt announced the grand opening of their new restaurant located east Eads on Highways 96 and 287.
What's ahead in 1971? Kiowa County has many assets not easily found in large populous areas. All we need is salesmanship. Think About It. Do Something About It.
75 Years Ago
December 28, 1945
An old landmark, Kelly Jackson's place in the south part of Eads, burnt to the ground.
100 Years Ago
December 31, 1920
The canon is unloaded and stands on the corner north of the depot. As it stands at present, a shot from it would take the corner off the Eads State Bank and go kerplunk into the First National. However when the Eads people receive this year's tax levies on their property, the Howitzer will no doubt be turned on the courthouse.