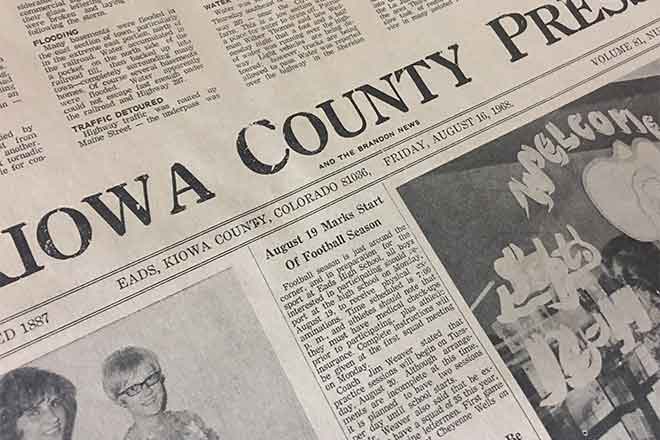 Published
Sunday, August 22, 2021
15 Year Ago
August 18, 2006
Energy and Mineral Impact Assistance Funds of $50,000 has been awarded to the Towner Recreation District Community Hall. The project consists of further remodeling to the Community Building, a former army medical barracks moved from La Junta.
25 Years Ago
August 23, 1996
Kansas farmers are trying to organize their own cooperative to compete with the nation's largest beef packing companies. The famers, going under the name U.S. Premium Beef, intend to market at least one million head of cattle a year.
The Colorado Water Conservation Board will conduct two meetings in southeast Colorado to solicit public input for a study to investigate problems related to recent flooding in the Arkansas River basin and identify possible solutions.
40 Years Ago
August 21, 1981
From the Sheriff Desk- Floyd Griswould: Last week we were quite busy on jail duty because we were holding five runaways from Oklahoma. Wednesday, we took a drunk into custody for annoying people at the Haswell Cafe. Saturday, the State Patrol relayed a prisoner to us arrested in Hugo on a warrant out of Kiowa County. Since we couldn't get him to court before Monday, he was transported to Cheyenne Wells.
50 Years Ago
August 27, 1971
One of Haswell's old landmarks was destroyed by fire. The house built by the Manlove's many years ago burned to the ground.
The Eads High School Student Council invites high school students and faculty to a fun filled picnic at the Eads swimming pool.