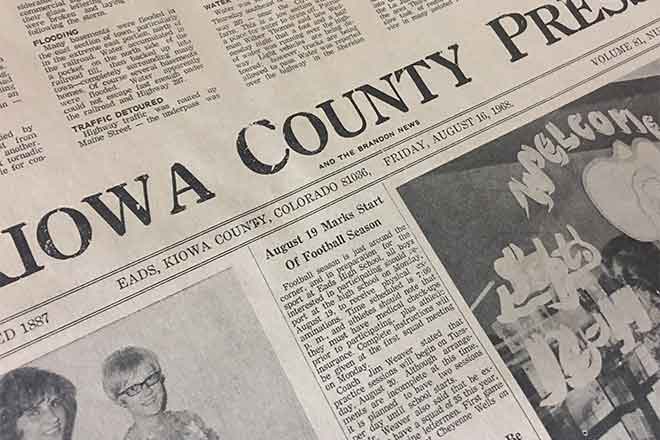 Published
Sunday, December 26, 2021
15 Years Ago
December 29, 2006
2006 Recap:
The Colorado Department of Transportation and V & S Railway Inc signed an agreement sale of the A Towner Railroad Line.
Community meeting results in formation plan to save the theatre.
Elden Reinert spoke about a coal-fired power generation facility that will be constructed in Southeast Colorado.
In June - Heat! That describes the current weather, Moisture conditions continue to plague most of Colorado.
25 Years Ago
December 27, 1996
Frank Vitera accepts a $500 check from Southeast Colorado Power Association to purchase a new TV for the men's lounge at Weisbrod Nursing Home.
40 Years Ago
December 24, 1981
Nursing Home News-LaVerne Fischer: An unannounced visit from Santa Claus caused much speculation among residents and staff. Thinking we had him cornered, we had him signed our guest book. But sure enough it was signed Santa Claus -North Pole. However, watching closely, he seemed pretty well acquainted with our bookkeeper, Renee Woods.
50 Years Ago
December 24, 1971
Prowers County Sheriff's Posse member were hosts to the Kiowa County Sheriff's Posse when both groups and their families, and the Jr. Sheriff's Posse and dates met for the annual Christmas dinner.
A new law taking effect January 1 will place many farm workers, who were previously exempt, under provisions of the Workmen's Compensation law, gives ranchers and farmers concerned about their liability under the amendment to the act.