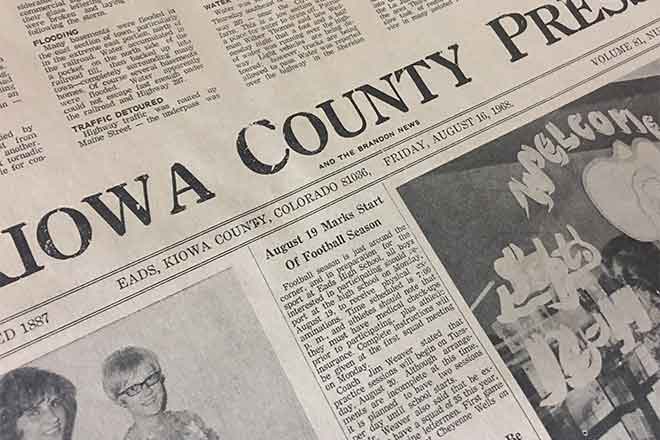 Published
Sunday, May 30, 2021
15 Year Ago
June 2, 2006
As the West End Turns- Michelle Wyckoff: Michelle Nelson would like to encourage everyone to come to the Nation's Smallest Jail Renovation Fund Raiser
Kit Carson Clips- Marilyn White: We got seven-tenths inch of rain with some pea size hail. Very Cool this morning and tempting to kick on the furnace.
25 Years Ago
May 31, 1996
The Great Plains Reservoir Project, located in Kiowa County, will receive a $2.5 Million Legacy Grant. The goal of the project is to develop the first state park in southeast Colorado.
East End Events- Ann M. Harkness & Co: Memorial Day weekend brought much needed rain to the area. Amounts 3.5 to 4 inches over the 72-hour period.
40 Years Ago
May 29, 1981
Missouri Pacific Railroad faces the upcoming grain harvest with a surplus of covered hopper freight cars and sees little trouble in handling what could be an excellent harvest in Kansas, Nebraska and western Missouri.
Nursing Home News- LaVerne Fisher: A long overdue congratulations to Fay Holcomb for her winning entry in the Rocky Mountain Writers Guild, Inc.
50 Years Ago
May 28, 1971
Trucks form Goodwill Industries will be in the area, weather permitting, to pick up household discards from residents.
The annual Arlington Day was observed at Colorado Boys Ranch commemorating the presentation of the Arlington Church to the Ranch for a chapel.