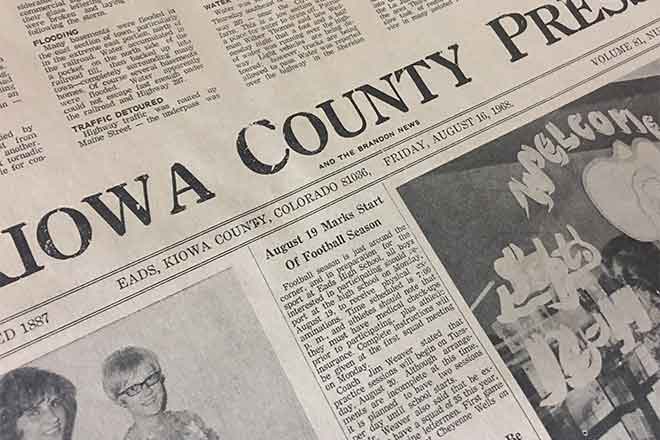 Published
Sunday, September 5, 2021
15 Year Ago
September 8, 2006
Kit Carson Clips- Marilyn White: Another Kit Carson Day has come and went. The weather was perfect, a delicious barbecue meal served. The parade was too short, so we need to dream up more floats for next year.
Purple People Eater-E $5.00 Fair Special Thursday Rocky Mt. Oysters, Friday Super Burrito, Saturday Spaghetti
25 Years Ago
September 6, 1996
The Superintendent of the Lamar school district says he will recommend that the school board fire the former athletic director.
The Union Pacific Railroad will slash about 1,100 Denver administrative jobs, shifting them to St. Louis and Omaha.
40 Years Ago
September 4, 1981
From the Sheriff's Desk- Floyd Griswould: I have received complaints of low flying planes have caused horses to go through fences and cattle to be frightened away from water tanks.
Eads Nursing Home- LaVerne Fischer: How great the people around here are. Our anonymous donor who sends flowers monthly to the residents just arrived.
50 Years Ago
September 10, 1971
The First National Bank announced that it will re-instate its previous Friday hours-open until 5:00 pm.
The annual Kiowa County Gymkhana will be held at the Haswell arena. This will be an all-trophy gymkhana with 19 trophies being given and no prize money.