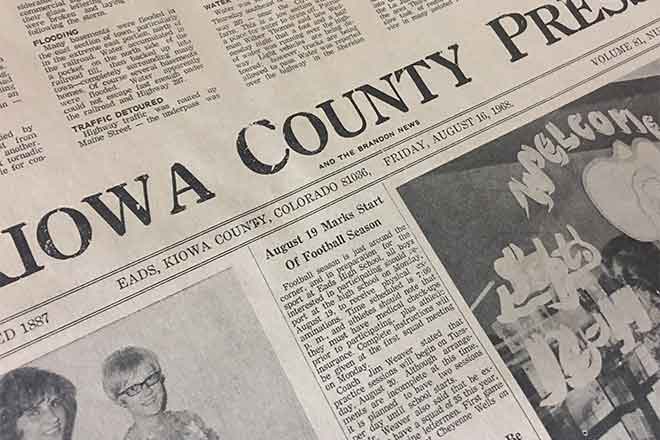 Published
Sunday, September 12, 2021
15 Years Ago
September 15, 2006
East End Events- Lana Weber: Many community members drove to Eads to attend the final day of the county fair and the Sunny Burgess concert, which was a GREAT concert!
About Town- Melissa Peterson & Doris Lessenden: Oh what a good fair we had in Kiowa County this year. Weather was primo both day and night.
Kit Cason Clips-Marilyn White: My 4th barbecue of the summer, Cheyenne County Fair, Kit Carson County Fair, Kit Carson Day, and the Kiowa County Fair. I am becoming a barbecue expert and all gets a blue ribbon.
25 Years Ago
September 13, 1996
USDA Update- Rod Johnson: Rain kept piling up in most areas of the county in August. We received an average of 3.37 inches.
Colorado oldest resident, Bessie Short of Seibert, tuned 110 years old.
Letter to the Editor- Cathryn Anderson: During the period 1990-1996, the Towner to Pueblo railroad has averaged 10 trains with 100-110 cars per train per day, for a yearly total of 356,000 cars running the track.
40 Years Ago
September 11, 1981
Craig Scott, 4-H teen from Kiowa County, was a first year clerk at the CO State Fair. Scott enjoyed the fair and learning new skills and judges' preferences. Craig's interests are in marketing and breeding swine and beef as well as junior leadership.
50 Years Ago
September 17, 1971
A meeting to organize an Adult Shorthand class will be held at the Eads High School Building.