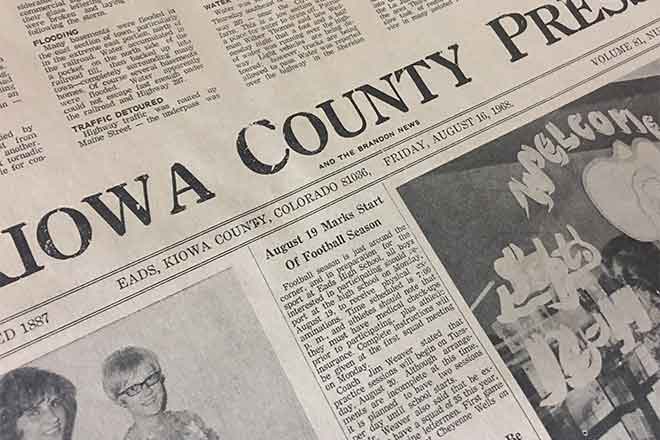 Published
Sunday, April 24, 2022
15 Years Ago
April 20, 2007
The Wildlife Hunter Association of Colorado returns to area to shoot prairie dogs, coyotes and other varmints for the 14th Annual Prairie Dog Shoot Out.
Wild Horse Roundup- Curtis Schrimp: Ladies Club was held but the weather told some maybe that should stay home. The ladies who made the desserts stayed home.
25 Years Ago
April 18, 1997
The Haswell and Eads Volunteer Fire Departments responded to a grass fire northeast of Haswell. An estimated 250 acres were charred when weed-burning efforts got out of control.
About Town- Ida Lessenden: A sheet of ice everywhere and freezing weather that stayed with us for three days. It was surely nice to have a warmer sunny day on Sunday.
40 Years Ago
April 16, 1982
A toss of a coin determined who the sixth member of the Haswell Town Board of Trustees would be. Both Lorin W. Kirby and Dutch Eikenberg received 28 in recent election. Dutch Eikenberg emerged as the winner.
Grasshoppers which have plagued Colorado in the past several years are expected to hatch in large numbers again this spring.
50 Years Ago
April 21, 1972
Housing needs, for young and old were again the main topic at the regular luncheon of the Eads Chamber Commerce.
Specialist Roger Evans, son of Mrs. Jesse Evans, has been awarded the Bronze Start Metal with "V" Device.
Brandon Briefs- Mrs. Oren White: We experienced the worst wind and dirt storm we have had in a long time Wednesday