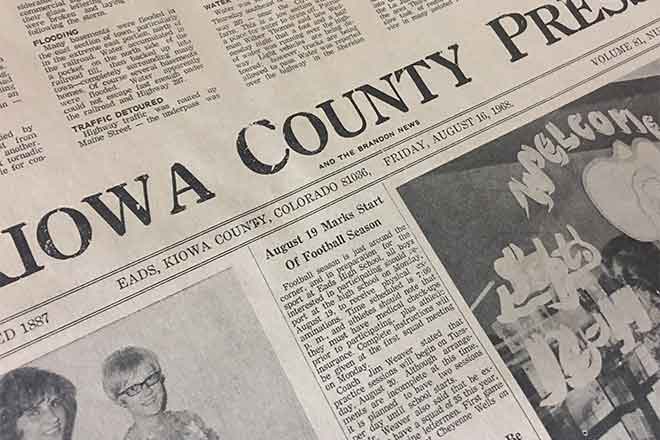 Published
Sunday, February 13, 2022
15 Years Ago
February 09, 2007
USDA Update- Rod Johnson: Some warmer weather has started the snow melting. With all the precipitation and high crop prices, many producers may be considering planting additional acres of crops this spring.
25 Years Ago
February 07, 1997
Plainview RE-2 school district was notified it was nominated as one of ten schools to receive the 1997 John Irwin Colorado Schools of Excellence award.
Kiowa County Public Library announced that return of overdue items during Amnesty Week will allow fines to be forgiven.
Nursing Home News- Nellie Nickert: We had an hour of fun when Kristin brought a couple remote control cars for us to try our hand at maneuvering.
40 Years Ago
February 05, 1982
Liz Rehfeld of Sheridan Lake was selected Kiowa County's '81 Farm -Ranch Wife.
The First National Bank in Eads plans to expand its present facilities in the very near future.
Dr. John Crow received notification he had been invited by the "People to People Program," inaugurated by President Eisenhower and the People's Republic of China.
50 Years Ago
February 11, 1972
While property tax levies throughout the state were showing a sharp increase, the same tax in Kiowa County went down from 1971 to 1972.
Sheridan Lake News- Mrs. Oren White: The childhood disease of chickenpox invaded the Plainview grade school last week.