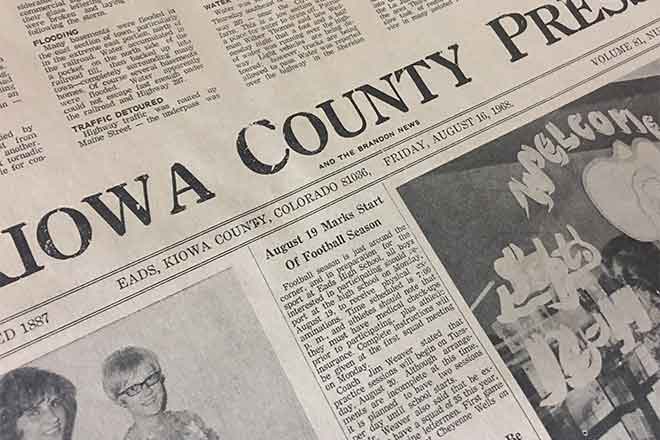 Published
Sunday, February 6, 2022
15 Years Ago
February 2, 2007
While some Colorado ranchers hit by recent blizzards are still looking for their cattle, others are now looking for hay. The available hay supplies are dwindling rapidly.
Beginner watercolor class at the Artists of the Plains gallery. Supplies provided; bring a sack lunch.
25 Years Ago
January 31, 1997
The annual "pack the gym" set for the Eads/Wiley game Friday, with lots of free door prizes and huge cake drawings.
Governor Roy Romer appointed five people to the State Land Board. Prowers County Commissioner/Veterinarian, John Stulp is among appointees.
Nursing Home News- Nellie Nickert: A surprise awaits those who haven't visited us lately: the dining room is like a picture out of the Homes & Garden magazine.
40 Years Ago
January 29, 1982
Daylight Donut officially opened its doors for business. The new business, which is owned and operated by Betty Shotton, with the help of her daughter Shelly, is located in the old Husky gas station.
An exhibit of 10 heads of hybrid grain sorghum won the division sweepstakes for Joe and Donald Oswald at the Colorado Pure Seed Show.
An open house is scheduled at the Kiowa County Abstract Company celebrating moving into the expanded facilities, which were just recently completed.
Pioneer Commodities opened its doors at the old Coachlight Cafe.
Sheridan Lake Ripples- Elsie E. White: Radio station KLMR in Lamar saluted our town of Sheridan Lake during the day Monday.
50 Years Ago
February 4, 1972
Three development projects for Kiowa County have been proposed. The development of the "Chivington Battleground" site [editor's note: now the Sand Creek Massacre National Historic Site] has been suggested along with county-wide television. The third proposal would be improvements at the Queens Lake site.
The United States Air Force Academy 60-piece band will play in concert at the Cheyenne Wells High School Gym.