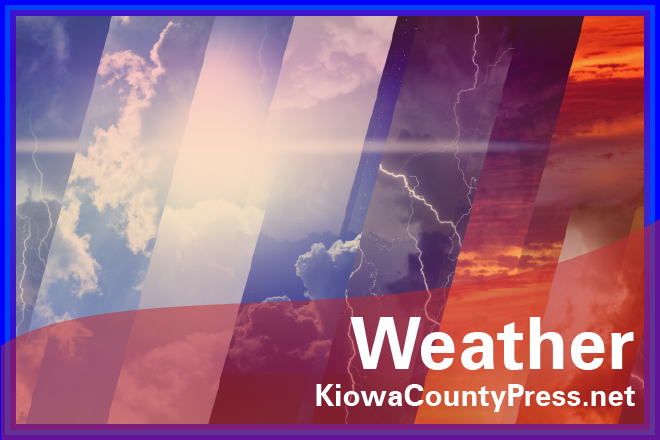 Published
Wednesday, May 29, 2019
Wednesday is expected to continue a cooling trend in Kiowa County, with high temperatures dropping another five degrees over Tuesday's highs.
Skies are predicted to be cloudy with some sun throughout the day. While a chance of rain was expected Wednesday night, recent updates show the next potential for rain and thunderstorms in the county backing off to Thursday evening.
Western Kiowa County will see the warmest temperatures, with highs approaching the upper 60s. The remainder of the county can look for mid-60s. Temperatures Thursday are currently expected to warm by about 10 degrees under mostly sunny skies.
Wind increased Tuesday evening, with gusts at 30 miles per hour recorded in Eads at 5:30 p.m. At 6:00 a.m. Wednesday, gusts to 24 mph out of the north were being recorded
Though Kiowa County is expected to be dry, some rain is possible across southeast Colorado Wednesday. Potential for severe storms is limited. A few areas may see wind gusts to 40 mph.
Temperatures are expected to be closer to season norms by Friday.
Currently, KiowaCountyPress.net Live Weather from downtown Eads shows NW at 6 mph. The temperature is 34.
Elsewhere in Colorado, relatively calm weather prevails. While mountain areas could see some snow Wednesday, no winter weather alerts are currently in effect.
Kiowa County Weather Outlook for May 29, 2019

Community

High

Low

Chance of Precip

Wind Gust

Direction

Arlington

67

45

0

15

N

Haswell

65

44

0

15

N

Eads

64

42

0

15

N

Brandon

65

42

0

15

N

Sheridan Lake

64

41

0

15

N

Towner

64

42

0

15

N
Weather information updated throughout the day is available at http://weather.KiowaCountyPress.net.