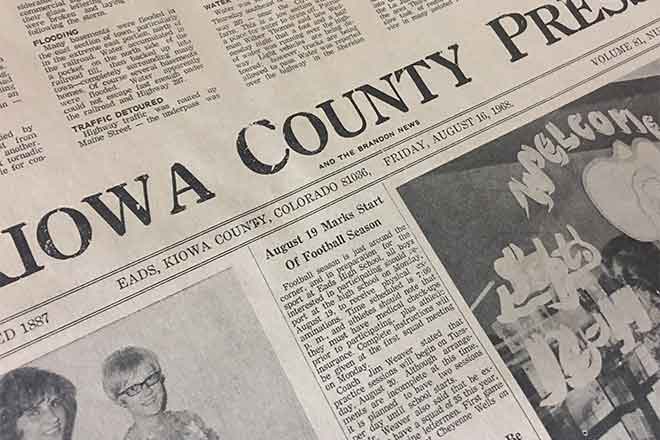 Published
Sunday, June 5, 2022
15 Years Ago
June 1, 2007
Soaring fuel prices have motorists scrambling to find ways to save money by using less gas.
25 Years Ago
May 30, 1997
Eads High School Seniors received nearly $100,000 in scholarships.
The Eads Seniors arrived home from their cruise to Mexico. They seemed glad to be home.
40 Years Ago
May 28, 1982
From the Sheriff's Desk-Floyd Griswould: We learned that a tornado had hit the old Eldridge ranch southwest of Eads last week.
The 6th Annual Senior Citizen Speak-Out Conference to be held in Lamar. This conference brings together senior citizens from 16 eastern Colorado counties allowing them the opportunity to address concerns, form opinions and develop future strategy relative to their lifestyle and needs
50 Years Ago
June 2, 1972
The Eads Chamber approves proposed Horseshoe Pitching Court on a portion of the Kiowa County Historical Society property.
75 Years Ago
May 30, 1947
Frank Clark is moving his shoe repair shop from its present location on Maine Street to the rooms in the back of the Post Office. The move from Maine Street is necessitated as the building on the new theater progresses.
Postal rates may go up-First revision of postal rates since 1879 which would add about 110 million dollars a year to post office revenues.
100 Years Ago
June 2, 1922
The Citizens State Bank at Lamar closed its doors. A reorganization of the board of directors is to take place and the bank will open for business in about two weeks