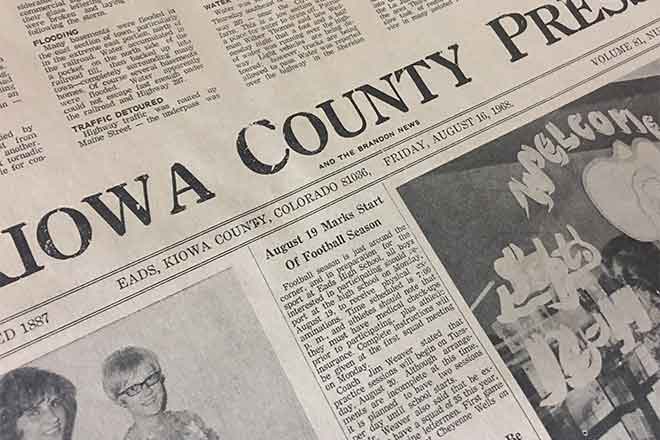 Published
Sunday, March 20, 2022
15 Years Ago
March 16, 2007
Bidding on approximately 5,127 acres of land, located in Kit Carson, Kiowa and Prowers counties, sold at auction for $2.1 million.
The Eads Lady Eagles brought home their 8th state basketball championship, the most girls basketball championships for any school in all divisions.
Wild Horse Roundup- Curtis Schrimp: Old saying "Win some, loose some" but the Kit Carson boys don't know that meaning as they went the whole year plus state without a loss.
25 Years Ago
March 14, 1997
Eads Auto held an open house and customer appreciation to introduce the new owner, John Courkamp.
The grand opening of Big A Auto in Sheridan Lake was celebrated with special discounts, drawings, give-a-ways and barbecue.
The 1984 Eads girls basketball team was honored at halftime of the 2-A Girls Championship for the "unforgettable championship game of 1984," Eads 56, Stratton 53 in overtime.
40 Years Ago
March 12, 1982
For the third time in less than a year, Kiowa Drug was burglarized.
A westbound Missouri Pacific freight train derailed about four miles east of Arlington.
50 Years Ago
March 17, 1972
The Kiowa County Sheriff Department is investigating a break-in at the Eads Golf Course.
Sheriff Kelley reported a number of prairie fires in the area during the past week, but none were of any great magnitude and easily contained.
75 Years Ago
1947
A Madison South Dakota man was seriously injured when his light plane crashed west of Eads near Dick Weber's place.
100 Years Ago
1922
F.O. Hayner & R.W. Murphy decided to quit farming and sell their places.
Better roads are forecasted for Kiowa County.
Encouraging report from Nee-No-She: drilling through ten feet of grey lime showed color changes - an indication of oil.