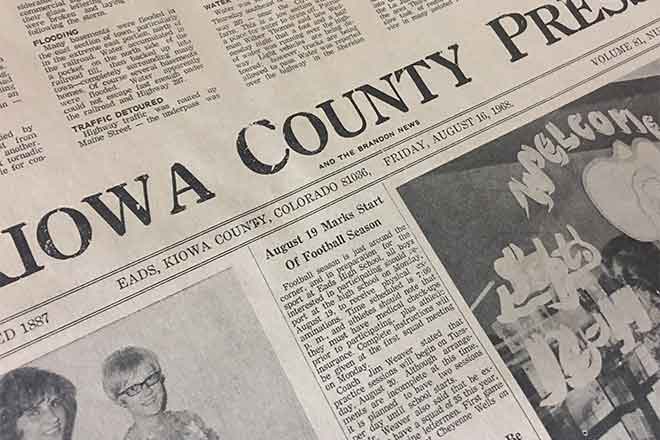 Published
Sunday, November 20, 2022
15 Years Ago
November 16, 2007
The Eads Chamber of Commerce will again be sponsoring a Christmas Lighting Contest to all residences in Eads.
About Town- Melissa Peterson & Doris Lessenden: The Weisbrod Hospital staff hosted a splendid Thanksgiving dinner for many of the nursing home residents and their families.
The ninth Annual Healing Spiritual Healing Run will start at the Sand Creek Massacre Site and continue to Eads for the annual Community Thanksgiving Dinner.
Statewide mass vaccination will occur November 17.
25 Years Ago
November 14, 1997
Checks totaling $1,600 were presented to Future Farmer of America. The money was derived from the proceeds of the first annual Kiowa County Demolition Derby held at the fair.
Wild Horse Roundup- Curtis Schrimp: Pretty quiet at our house during the Bronco's game as I didn't have to keep yelling at the TV telling them what they were doing wrong.
40 Years Ago
November 12, 1982
At a special meeting, the Kiowa County RE-1 School Board decided to go to a vote of the electors and request a mill levy increase.
50 Years Ago
November 17, 1972
Snow dumps nine inches of snow in the Eads area. Chivington area reported problems of drifting. Howard Eitel reported he had 100 head of cattle missing. Haswell had 5 to 6 inches of snow, with high winds caused drifting.
75 Years Ago
November 14, 1947
Eads School Band won first prize at the Lamar School Band Festival. Along with the win, came a cash prize of $25.