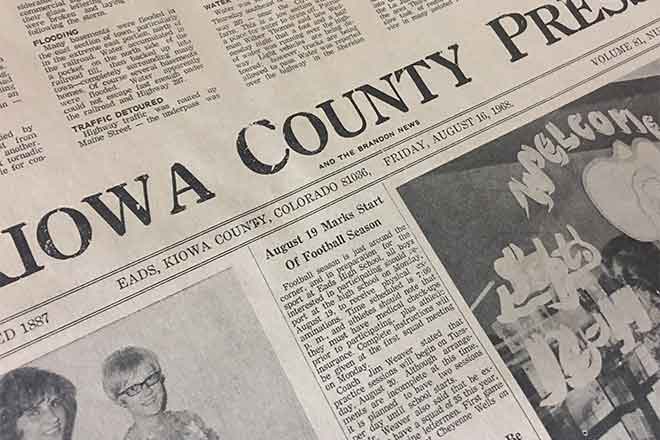 Published
Sunday, October 2, 2022
15 Years Ago
September 28, 2007
The Kiowa County Ambulance Service, partnering with Weisbrod Memorial Hospital and the Eads Lions Club, are bringing the Jungle Mobile to Eads.
A house in Brandon had a suspected natural gas leak, when a flame introduced to the gas fill house causing an explosion. David Crockett, was living at the residence at the time of the explosion before it burned to rubble.
Wild Horse Roundup- Curtis Schrimp: A grasshopper in the pickup reminded me back in the 1930s. We had a grasshopper infestation. They covered the fence posts and telephone poles to the top.
25 Years Ago
September 26, 1997
The first annual Baby Bear Hugs Cute Baby Contest was held at the Kiowa County Fair. First place was won by Kailyn Lane; second Jennifer Arnold; third was Tyler Rouse, and fourth place was Bryce Batterton.
40 Years Ago
September 24, 1982
The largest crowd for several years visited the museum during the Kiowa County Fair. Over 100 people signed the register.
From the Sheriff's Desk-Floyd Griswould: From the looks of things, this could be a very dangerous fall for prairie fires.
50 Years Ago
September 29, 1972
The Federal Aviation Administration is conducting a study requested by the Eads Public Works department of the existing municipal airport and proposed heliport.
There has been a rash of petty thievery lately reports Sheriff Kelley. Batteries and gas were stolen from county vehicles, and few other reports.
75 Years Ago
September 19, 1947
Winners of the Calf Catch-It Contest at the fair were Harry Abrams, Julia Owen, Melvin & Marvin Richardson, Eldin Reinert, Frank Jacobs, L.D. Nelson, Gene Weiser, Jerry Uhland, Donne Stroud and Kenneth Burns.
100 Years Ago
September 22, 1922
The Star Garage advertised labor 75 cents cash per hour.