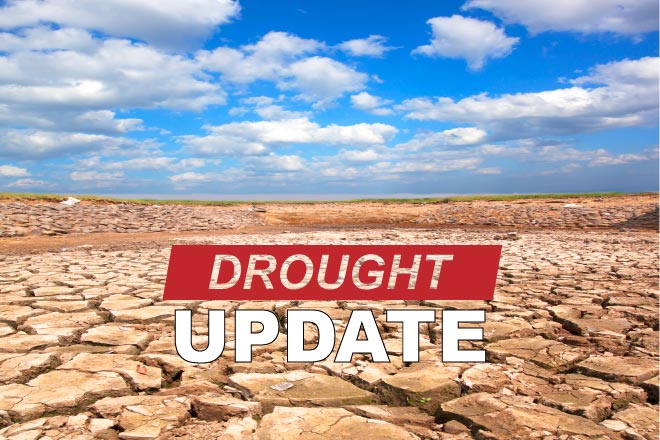 Published
Saturday, August 29, 2020
Generally hot and dry conditions have led to further expansion of drought across Colorado, with central Kiowa County slipping into exceptional drought - the worst category - according to the latest report from the National Drought Mitigation Center. Temperatures across the state's eastern plains have been well above normal by as much as two to ten degrees. Few areas saw any significant moisture.
In eastern Kiowa County, Sean Harkness noted on social media that dry conditions were contributing to cracks in the soil. "You know it's been pretty dry when the buffalo grass is cracking," he stated.
You know it's been pretty dry when the buffalo grass is cracking. pic.twitter.com/pIfHn2xgsF

-- Sean Harkness (@harkness_sean) August 29, 2020
The new area of exceptional drought represents just 0.38 percent of the state, so rounding the statistics continues to show Colorado free from the worst category. In late June, much of eastern Baca County and a small portion of southern Prowers County slipped into exceptional drought for one week, representing 1.37 percent of the state's area at the time.
In southwest Colorado, extreme drought expanded to fill in the remaining areas of Dolores and La Plata counties, along with most of Montezuma County. In the northwest, the remainder of Garfield and Eagle counties moved into extreme conditions. Extreme drought also expanded into most of Summit and Grand counties, and smaller portions of Jackson, Routt and Rio Blanco counties.
Severe conditions have overtaken moderate drought from the central and northern mountains to the northeast plains across all or large portions numerous counties. All of Colorado's Front Range counties are now in severe drought. Severe conditions also expanded in Routt and Moffat counties.
The state did see one small area of improvement. Northeast and east central Yuma County moved from moderate drought into abnormally dry conditions. A sliver of adjacent southeast Phillips County also shifted to abnormally dry.
Drought conditions are expected to persist across the state through the end of November according to the U.S. Seasonal Drought Outlook released August 20 by the Climate Prediction Center. The small areas of abnormally dry conditions in Colorado are forecast to move into drought.
Overall, two percent of Colorado remains abnormally dry, a one percent increase from the previous week. Moderate drought fell from 26 to five percent, while severe conditions increased 12 percent to 57. Extreme drought reached 36 percent up from 27. Less than one percent of the state is in exceptional drought.
Just under five million people in Colorado are in drought-impacted areas.
At this time last year, 80 percent of Colorado was drought-free, with 18 percent listed as abnormally dry and two percent moving into moderate drought. Just over one year ago, the state was in an eight-week span of drought-free conditions - the first time the state had been clear from all levels of drought and abnormally dry conditions since records became available starting in 2000.
Drought classes include (ranked from least to most severe) D0 - abnormally dry, D1 - moderate, D2 - severe, D3 - extreme, and D4 - exceptional drought.
Colorado Drought by the Numbers

Week

Date

None

D0

D1

D2

D3

D4

Current

8/25/20

0

2

5

57

36

0

Last Week

8/18/20

0

1

26

45

27

0

3 Months Ago

5/26/20

23

12

21

26

18

0

Start of Calendar Year

12/31/19

32

17

31

20

0

0

Start of Water Year

10/1/19

30

42

28

0

0

0

One Year Ago

8/27/19

80

18

2

0

0

0