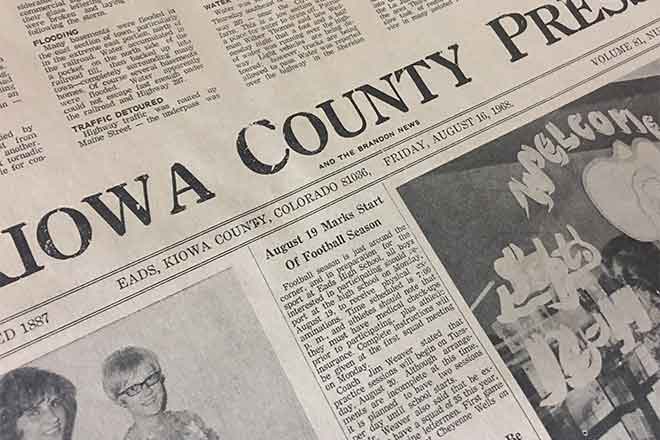 Published
Sunday, October 30, 2022
15 Years Ago
October 26, 2007
Some of the Kiowa County official election ballots mailed out include the word "Sample." Despite the word appearing in the title Kiowa County Clerk Debra C. Lening ruled the ballot is official.
Brent Ritter, formerly of Eads, and his son, Brad, were in the musical stage play "Fiddler on the Roof" at the Pueblo Runyon Theatre
25 Years Ago
October 24, 1997
The Eads Chamber of Commerce will host an informational meeting to discuss the prison proposal.
A contest guessing the number of cans in a recycling bale was won by Gary Anderson of Burlington. His guess of 12,120 cans was only 6 cans off.
40 Years Ago
October 22, 1982
Wildlife Supervisor Bruce McCloskey recovered the bodies of two trophy-sized mule deer slaughtered by a poacher south of Sheridan Lake.
Rhua Sloan is presented the "Meritorious Service Plaque" from the Kiowa County 4-H Council.
50 Years Ago
October 27, 1972
The ditch companies in the Arkansas Valley will hold a meeting to discuss the proposed water management and include water storage. This meeting is expected in include from the Bessemer east to the state line.