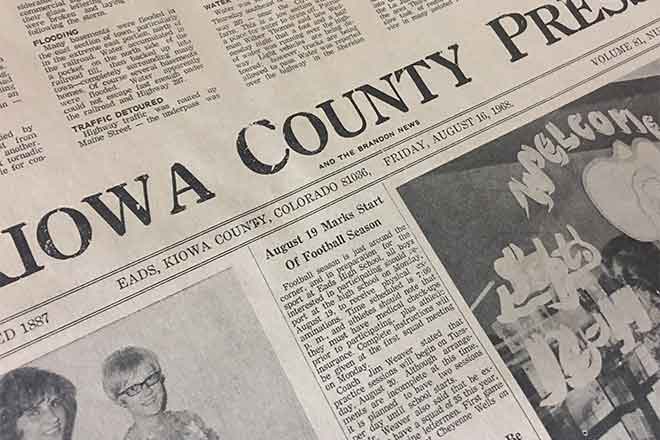 Published
Sunday, October 9, 2022
15 Years Ago
October 5, 2007
The Eads High School Band participated in the Homecoming Parade.
East End Events- Sharon Scott: Dot Crocket said she got 1.5 inches of rain. She must be doing something right as we only got three tenths in Towner.
25 Years Ago
October 3, 1997
Kiowa County Sheriff Gary Rehm is warning local business and residents to watch for "Nigerian Con Artists." Anyone receiving such a letter to contact the Sheriff's Department.
Reanee Wall has been selected as one of the recipients of the Outstanding Mathematics Teacher Awards for 1997.
40 Years Ago
October 1, 1982
Twenty-four members of the class of 1935 met at the Whitelaw-Pyles Memorial Center for a reunion dinner.
50 Years Ago
October 6, 1972
The Commissioners from the counties of Cheyenne, Kiowa, and Kit Carson met to discuss a establishment of a joint television relay installation to serve the three-county area.
There were 12 proposed Constitutional Amendments and Laws Referred in the upcoming general election.
Lloyd Philpy and Ron Brillhart combined for the championship of the men's handicap in the "Anything Goes" Golf Tournament held at Spreading Antlers golf course.
100 Years Ago
September 29, 1922
The Missouri Pacific started work on the new water tank to be erected here.
Eads State Bank published it had a capital stock of $25,000 and 4 percent to be paid at time of deposit.