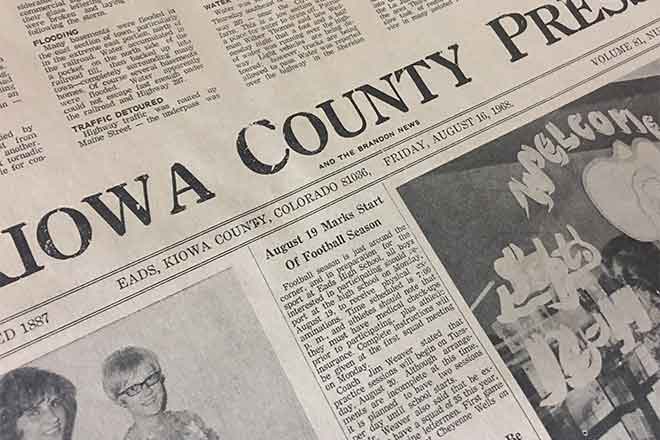 Published
Sunday, September 18, 2022
15 Years Ago
September 14, 2007
USDA Update- Rod Johnson: The price of wheat is being pushed higher by short carryover supplies and internationally low production of wheat. Wheat cash price in Kiowa County is $7.80 per bushel.
About Town- Melissa Peterson & Doris Lessenden: It was really good to see and hear the Eads marching band in the parade.
25 Years Ago
September 12, 1997
Kiowa County Deputy Sheriff Jack Howard, reported to the Eads City Council a private company which builds correctional facilities is looking for location in which to build.
About Town- Ida Lessenden: A tip of the hat goes to Amy Weirich who spent over eight hours painting the huge sign on the highway "Welcome EHS Alumni 1917-1997."
40 Years Ago
September 10, 1982
The Primary Elections will be held in Kiowa County and the rest of the state next Tuesday.
From The Sheriff's Desk- Floyd Griswould: I thought for a while we were going to have to fill the meeting room with prisoners. The driving got just a little too wild and noisy on the streets of Eads.
50 Years Ago
September 15, 1972
Sheridan Lake News- Mrs. Oren White: The most important news, Mr. & Mrs. A.V. Harris new pickup was found, though it had been wrecked, near Limon.
75 Years Ago
September 12, 1947
Infield-Wegner Grain Company of Eads suffered extensive financial loss when fire swept through one of their warehouses at the elevator.