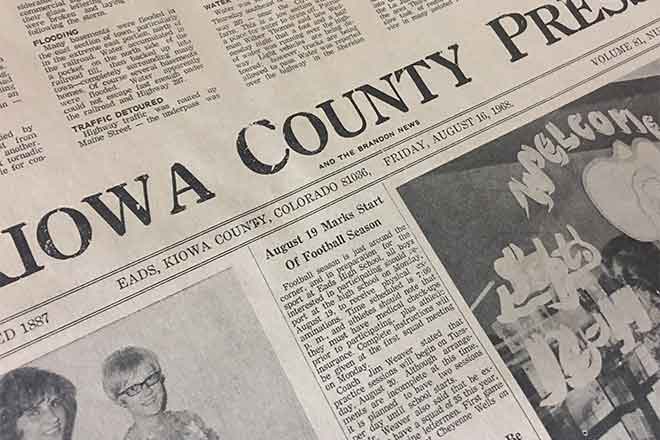 Published
Sunday, February 5, 2023
15 Years Ago
February 1, 2008
Eads High School Business Students and two Youth Council students received their third award for their "Sample Town" project they completed last spring.
About Town- Melissa Peterson & Doris Lessenden: How the wind doth howl. Mercy. I guess it goes with the territory and many times the territory goes with it!
25 Years Ago
January30, 1998
Kiowa County has been awarded more than $95,000 from the Colorado Historical Society's State Historical Fund for the preservation of the Bransgrove Building on Maine Street.
Work is nearing completion of the new drive up window of Valley State Bank. A new sign has been posted to convert one block of 13th Street just south of the bank to one-way street.
Wild Horse Roundup- Curtis Schrimp: Oh, Happy Day. We did it. We did it. We Did it. Well it has been a struggle, but it turned rosy. The Broncos won!
40 Years Ago
February 4, 1983
A new business, Ruth's Second Hand Store, officially opened its doors for business at the corner of 9th and Luther in Eads.
Barbara Wilson of Sheridan Lake was recently named Kiowa County Farm-Ranch Wife of 1982.
50 Years Ago
February 2, 1973
Haswell Notes- Doris Forsyth: Eastern Colorado experienced its worst blizzard of the winter from the standpoint of the wind. Snow was light, but the extremely high winds caused extensive drifting and made travel impossible.
Our Kit Carson Neighbors- Ruby Lafferty: Another bad experience of the storm will be long remember by Corky and Sonny Randolph. Their pickup stalled and they were unable to get it started. They burned part of the seat to keep warm. They spent 10 hours or more before being found.