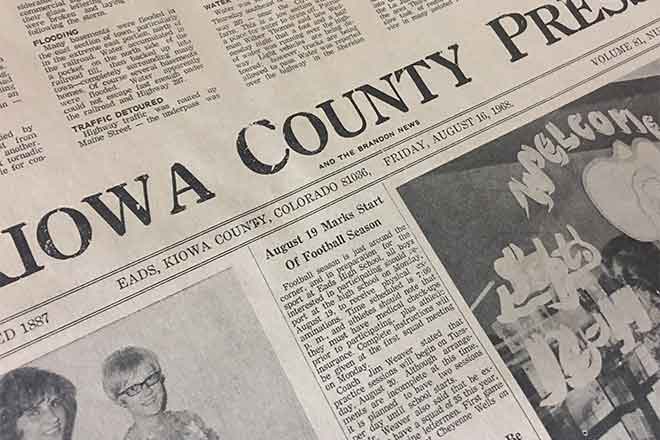 Published
Sunday, August 1, 2021
15 Year Ago
August 4, 2006
Some happy Red Hatters' pose with the King of Rock & Roll at Big Daddy's Diner in Canon City.
Kit Carson Clips- Marilyn White: Kit Cason was hopping for a few days when someone opened the backyard gate and let five Wallabies loose from the Mitchell residence.
Jefferson County Health officials are still looking for the person that dropped off a bat at a local veterinary office which later tested positive for rabies.
25 Years Ago
August 2, 1996
The merged railroads of the Union Pacific and Southern Pacific, largest in the country's history, will go head to head against giant Burlington Northern Santa Fe.
The state's harvest this year might be only 70 million bushels, well below 1994-95 crop of 102.6 million bushels.
40 Years Ago
July 31, 1981
Tim Bowmaster feels he can fill the need of a radio and TV repair in Eads. He will be operating part-time out of his home in hopes the needs will grow to open a shop full time.
Little Britches Rodeo was so furious, the Friday night performance was called off until the next morning.
From the Sheriff's Desk- Floyd Giswould: Monday evening we tried our tornado evacuation plans out of the real thing. We were actually in the cloud itself because it was so low.
50 Years Ago
August 6, 1971
Kiowa County residents are encouraged to enter exhibits in the Colorado State Fair, even though the Kiowa County Fair will not be until later.