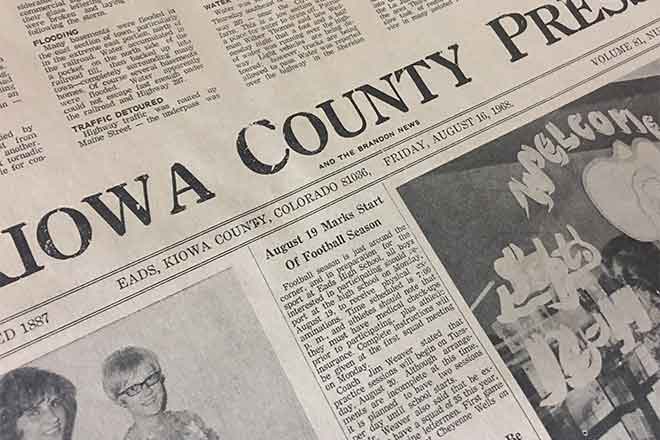 Published
Sunday, January 1, 2023
15 Years Ago
December 28, 2007
Year in Review:
CDOT has spent $7.1 million on snow removal during the numerous storms and blizzards.
Stop & Shop Inc was named 2006 Business of the Year.
The town of Holly was struck by a tornado.
Thursdays on Maine went a change in ownership in September.
A bat in Kiowa County tested positive for rabies.
Congratulation to Kit Carson Wildcats on their recent trip to the State Basketball Tournament. The boys brought home the big gold ball.
Marcie Harkness took Ryan and Taylor for a combine ride. They learned lots about things they can't experience living in a large city.
25 Years Ago
December 26, 1997
Doris I. Lessenden outstanding educator and citizen of Eads and Kiowa County, has been chosen to receive the honor of outstanding citizen of Kiowa County by Daughters of the American Revolution Fort William Bent Chapter.
40 Years Ago
December 24, 1982
Lana Christie was the "Big Winner" in the final Christmas Drawing. Lana won a 19" color TV
Nursing Home News- LaVerne Fischer: Our most exciting news consists of the presentation of check for $1,087 from George and Shirley Crow, which guaranteed our dreams of new carpet.
50 Years Ago
December 29, 1972
Southeaster Colorado stockmen are becoming alarmed at the possible losses to the cattle industry as the result of the early and continued snow in the area.