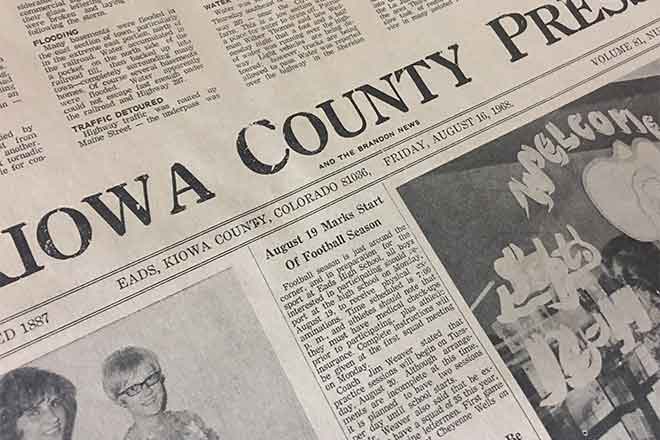 Published
Sunday, September 10, 2023
15 Years Ago
September 5, 2008
About Town- Melissa Peterson & Doris Lessenden: The Youth Council of Eads High School was working out in the blazing sun and blasting winds pulling weed and raking at the park near the railroad tracks.
The National FFA organization selected from a pool of more than 600 candidates nation-wide, the Eads FFA Chapter as a three star winner in the National FFA Chapter award program.
25 Years Ago
September 4, 1998
Highway 287 south of Eads was closed when a truck driver crashed through construction barricades causing his cargo of industrial cleaner to leak.
USDA Update- Rod Johnson: With the increase acreage of spring crops, storage will be at a premium this fall. Between three crops, we have about 20,000 acres above normal for harvest.
40 Years Ago
September 9, 1983
Nursing Home News- LaVerne Fischer: Everyone enjoyed the peaches given by Rhua Sloan and Neta Dunlap. These were home grown, tree ripened, and delicious.
50 Years Ago
September 7, 1973
For the first time, the Grand Ole Opry will present a full show in front of the Kiowa County Fairgrounds grandstands.
Mrs. Bob (Bert) Howerton of Eads landed a 32-inch 12 pound catfish from Nee No She.