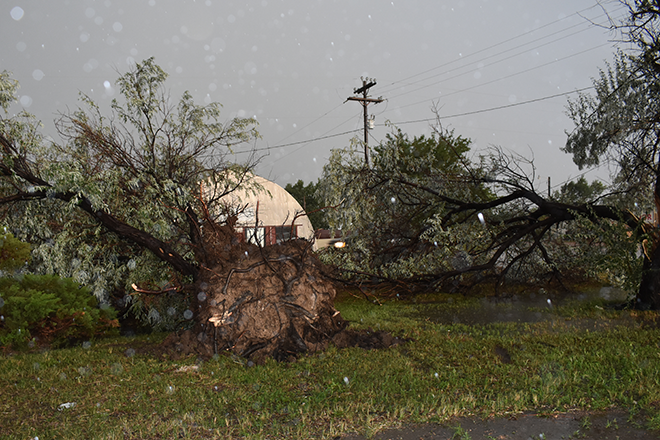 Published
Friday, July 27, 2018
Note: Power has been out for more than 24 hours in parts of the county. Check these food safety tips.
A fast-moving storm downed limbs and at least one tree in Eads Friday evening.
Earlier in the day, the National Weather Service had predicted a series of storms would impact northeast and east central Colorado with wind gusts up to 80 miles per hours and hail up to the size of baseballs. Tornado activity was also predicted.
The Colorado State Patrol reports that a vehicle crash on County Road 49, known locally as the May Valley Road, resulted in downed power lines across the road. Power lines were also down in the northbound lane of Highway 287 in Eads.
Shortly after 7:00 p.m., storms swept across Kiowa County with wind estimated at 70 mph based upon damage to trees in the area. More than one-half inch of rain fell in Eads, at times reducing visibility to less than one-eighth mile.
Kiowa County Sheriff Casey Sheridan reported water was flowing across Highway 287 south of Eads, and that multiple trees and power lines were down. Sheriff Sheridan posted brief videos on Twitter showing a large flow of water near mile marker 105.
Water over hyw 287 south of Eads. Multiple power lines and trees down. Eads is without power. pic.twitter.com/eNX5r0WzKL

-- Casey Sheridan (@KCSOSheridan) July 28, 2018
287 mile post 105 south of Eads. Water running over the road way. pic.twitter.com/shPcqm6J5c

-- Casey Sheridan (@KCSOSheridan) July 28, 2018
Power was cut off to the town around 7:15 p.m. and remained out at 5:30 a.m. the following morning for at least parts of the area.
The Kiowa County Sheriff's office and Kiowa County Fire Department were blocking northbound Highway 287 near the intersection with Maine Street due to a tree that had blown over into the roadway and down power lines. Traffic was diverted north on Maine Street.
A tornado warning was issued briefly for extreme southeast Kiowa County and northeast Prowers County as radar indicated the potential for a tornado. No reports of a tornado sighting have been received.