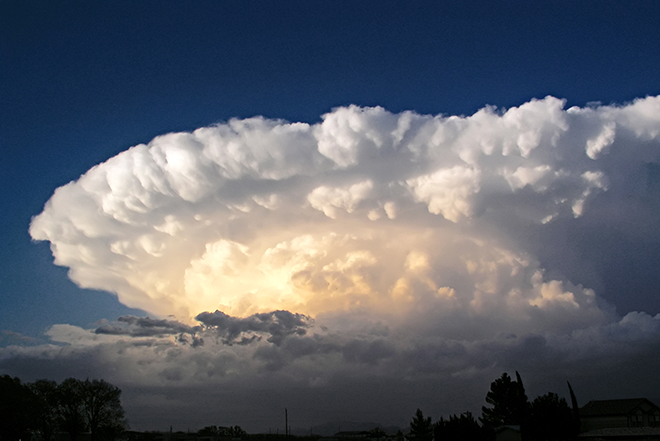 Published
Saturday, July 8, 2017
Temperatures mainly in the 90s will continue to blanket much of eastern and western Colorado Saturday, along with scattered thunderstorms to hint at annual monsoon moisture to come a little later in the summer.
Eastern Colorado
The plains can look for high temperatures mainly in the low to mid-90s. East central counties along the Interstate 70 corridor will be cooler - but only slightly: Limon and Cope can expect upper 80s. Karval, Eads, Springfield and Cheyenne Wells be in the low 90s, while Lamar, Sterling and Julesburg will be a few degrees warmer. Las Animas, Huerfano and El Paso counties will enjoy mid-80s.
For relief from the heat, head toward the central mountains, where temperatures will mainly be in the 70s Saturday.
Look for scattered afternoon thunderstorms starting over the higher elevations and spreading east over the plains. Stronger storms are possible later in the afternoon, potentially producing wind gusts to 55 miles per hour, hail and some areas of locally heavy rainfall.
Over the next few days, drier air will scale back the storm potential, though a few isolated and scattered storms remain possible. A high-pressure system entering the state could force temperatures back to triple digits early in the week across parts of the plains, including Kiowa County.
Western Colorado
Grand Junction is hoping to break a 32-day streak without a drop of rain. While not a record - a 49-day streak was recorded in 1904 - the area is in need of moisture as drought conditions moved into the abnormally dry category for northwest and west central Colorado this week. A slight chance of thunderstorms in the area late Saturday afternoon provides some hope.
Temperatures Saturday will generally be around 90, with Grand Junction being the exception as the high falls just short of 100. The pattern continues into the start of the week, along with some chances for thunderstorms producing very brief, heavy rain, small hail and lightning. The potential for thunderstorm activity increases as the week progresses, particularly for the western mountains. Some minor relief from the heat can be expected later in the week as high temperatures are expected to drop five or more degrees.
Forecast - July 8 - 10

Saturday

Sunday

Monday

City

High

Low

High

Low

High

Low

Eads

94

62

98

63

102

65

Springfield

92

62

97

64

98

66

Trinidad

84

60

90

60

94

61

Limon

89

56

92

58

96

59

Sterling

93

60

98

59

99

62

Fort Morgan

91

58

98

59

98

61

Craig

89

49

92

50

90

52

Grand Junction

99

69

100

70

98

70

Montrose

90

58

92

59

90

61

Cortez

90

57

91

55

90

58